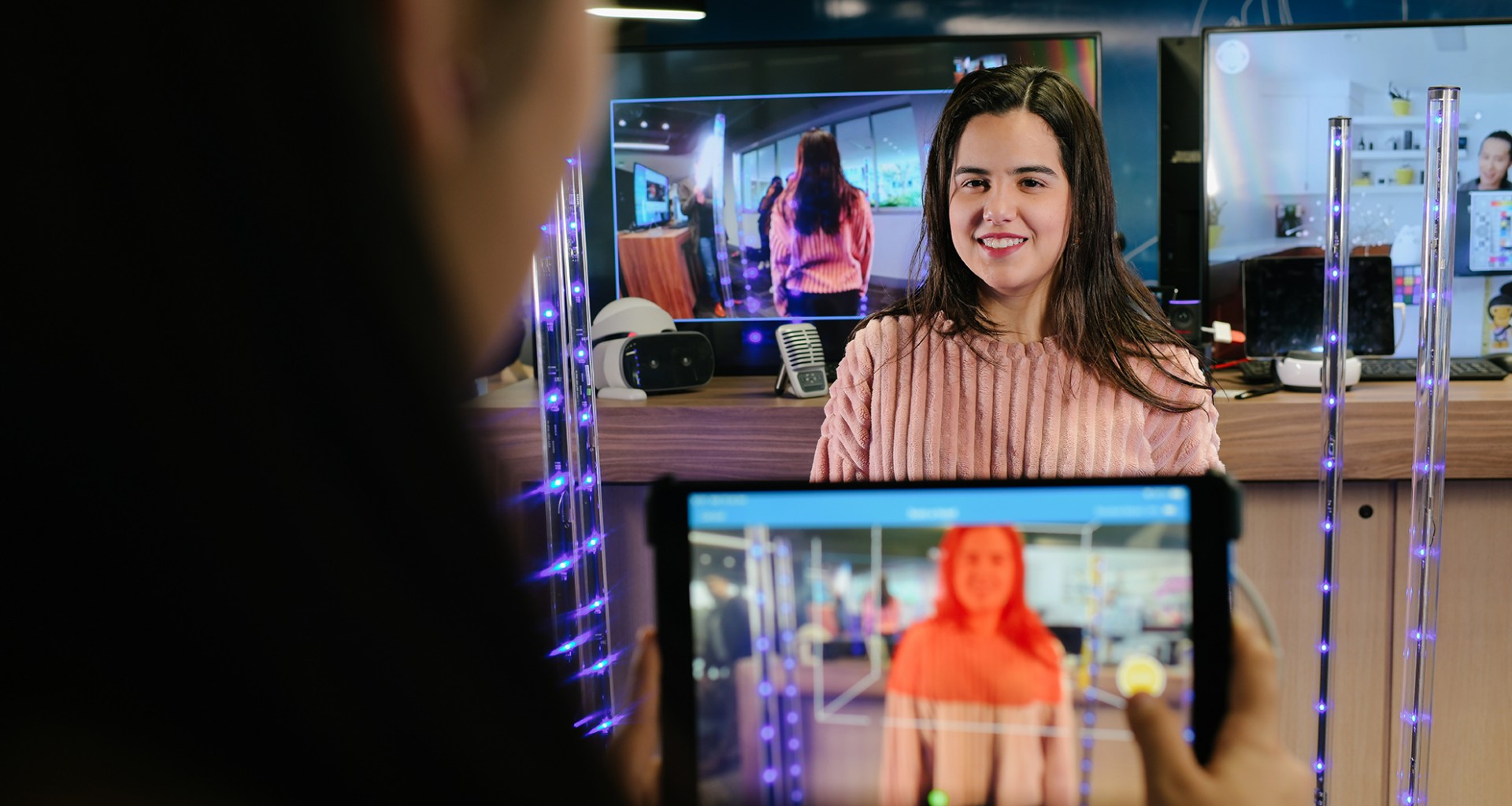 LEI
B.A. in Educational Innovation
Education for a new era
Education is undergoing a dramatic transformation, incorporating a growing number of innovative pedagogical approaches, emerging technologies that support educational practice and the development and use of diverse content production formats and platforms to respond to current and future needs, as well as the trends in this field, such as neuroscience for education, the use of big data, artificial intelligence and challenge-based learning, among others. As an Educational Innovation graduate, you will be able to reinvent educational practice and face up to these challenges.
Specializations
The educational model enables you to personalize your graduate profile. During the specialization stage, consider a focus based on your post-graduation plans. Tec offers you the means to achieve this through these concentrations:
Model Design and Learning Environments
Management of Educational Solutions
Digital Humanities
*These concentrations are not the final offer and their availability varies on each campus.
Career field
This program reinforces the profession's international vision, the use of digital technologies and currency in the emerging trends of the diverse learning and education environments. As a result, on graduating you will be able to work in any of the following contexts:
Staff training and development areas in public and private organizations
Companies focused on educational software and application development
Entertainment industries
 Public and private cultural institutions
Educational institutions
The media
Government organizations
Non-government organizations (NGOs)
¿Te identificas?
Si eres una persona analítica, creativa, con interés en innovar los procesos y espacios de aprendizaje y consideras a la educación como un factor fundamental para el progreso de un país y el desarrollo de las personas, esta carrera es para ti.
Is this you?
If you are analytical, creative, interested in innovating learning processes and spaces, and view education as a fundamental factor for a country's progress and human development, this is the degree for you.
The three stages of the model
Choose your path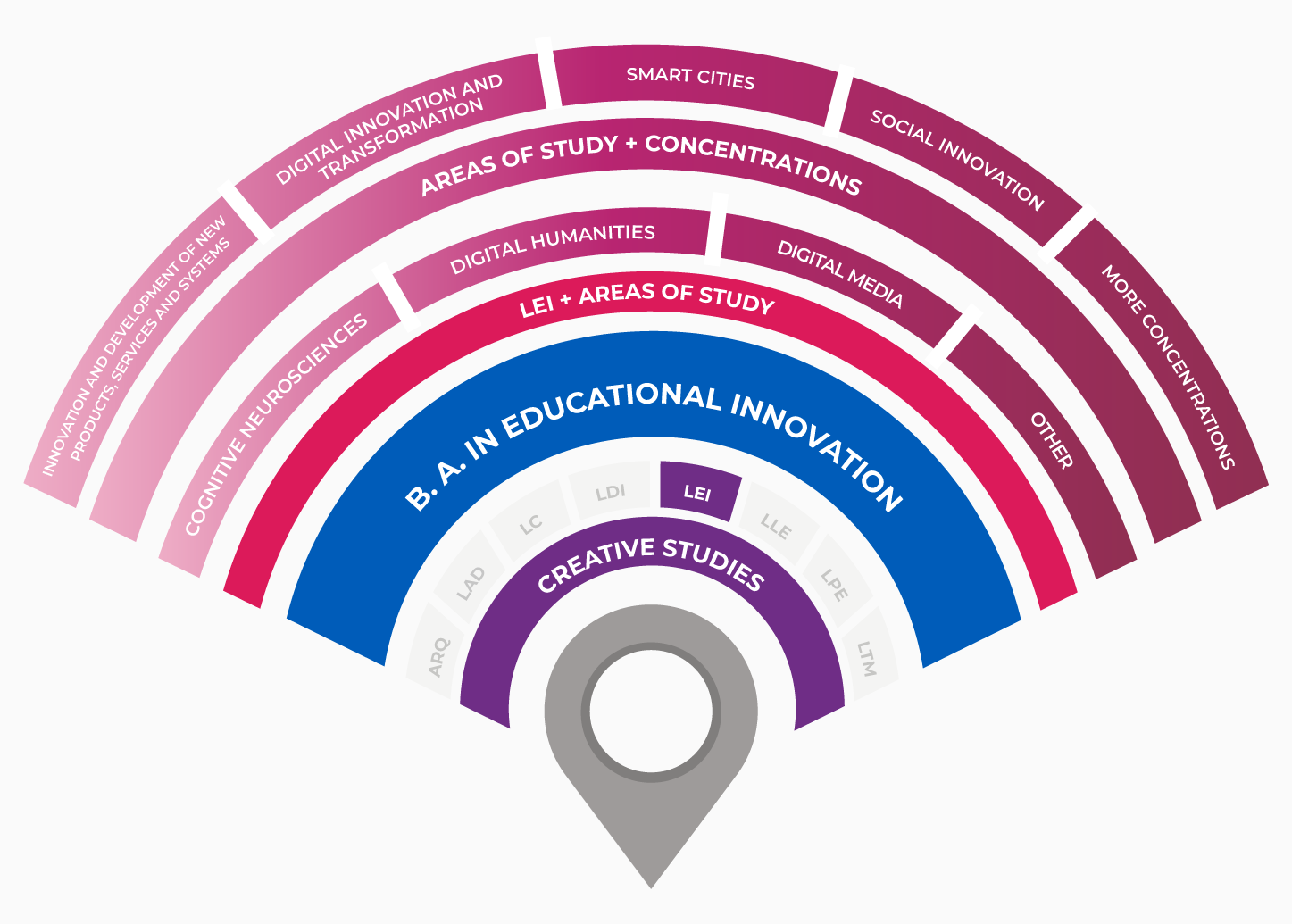 Exploration
You will open your competency file and add to it throughout your degree program.
You will learn the foundations of the area of Creative Studies.
You will participate in fundamental and exploration challenges from the area of Creative Studies, interacting with peers from different degree programs.
You will study general education courses, selecting them from a collection.
You will participate in a challenge that integrates all the competencies to be developed in this phase.
Focus
You will acquire the core competencies of your degree, in other words, those that distinguish it.
You will participate in more focused challenges to reinforce what you have learned and broaden your basic knowledge.
You will have the elements to decide whether to deepen your knowledge or diversify and, subsequently, build your specialization plan.
The Tec Weeks, challenges and overall university experiences will enrich your file.
Specialization
You have decided whether to diversify or delve further into your degree, by choosing a concentration, a modality, an internship stay, to mention just a few of your options. The Tec Semester is a flexible-time space to get started.
You will develop the competencies related to your specialization, increasingly connected to your passions, interests and plans.
If you decided to opt for a concentration, on graduating you will obtain a professional concentration certificate issued by the Office of the Registrar at your campus.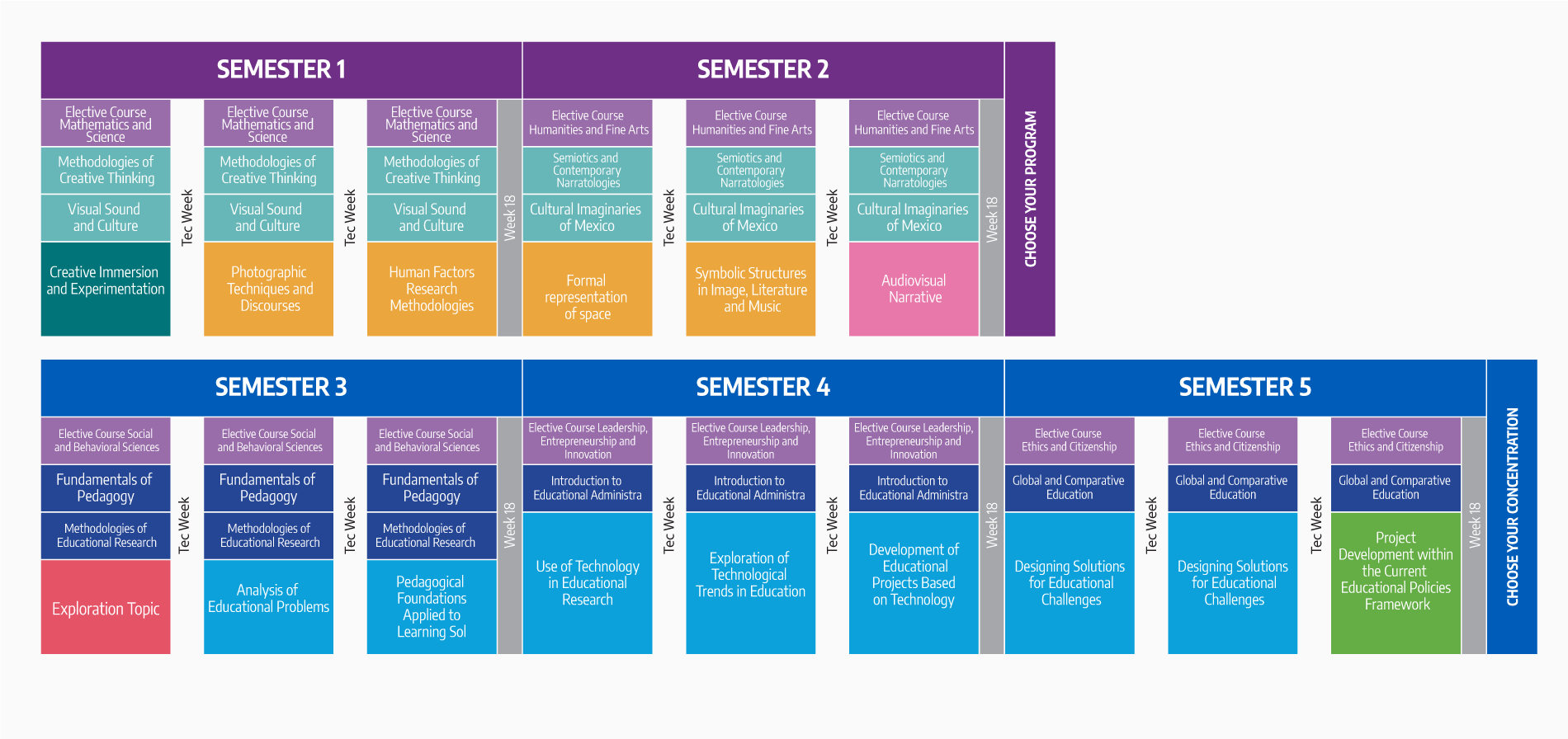 General education course

Area exploration courses

Introductory block (CHALLENGE)
Area exploration block (CHALLENGE)

Exploration topic (CHALLENGE)

Track integrating block (CHALLENGE)

Disciplinary course

Disciplinary block (CHALLENGE)

Integrating disciplinary block (CHALLENGE)

TEC Semester

Multidisciplinary professional elective (CHALLENGE)

Final integrating block (CHALLENGE)
Hasta
2°
semestre
Campus Aguascalientes
add
phoneTeléfono
(449) 9 100 960
emailCorreo electrónico
admisiones.ags@itesm.mx
Hasta
2°
semestre
Campus Santa Fe
add
phoneTeléfono
(55) 9177-8230
emailCorreo electrónico
admisiones.csf@itesm.mx
Hasta
2°
semestre
Campus Morelia
add
phoneTeléfono
(443) 322-6800 ext. 3211 / 01 (800) 500-0010
emailCorreo electrónico
admisiones.mrl@itesm.mx
Completa
Campus Monterrey
add
phoneTeléfono
(81) 8158-2269
emailCorreo electrónico
admisiones.mty@itesm.mx
Hasta
2°
semestre
Campus Chihuahua
add
phoneTeléfono
(614) 439-5050
emailCorreo electrónico
admisiones.chi@itesm.mx
Hasta
2°
semestre
Campus Laguna
add
phoneTeléfono
(871) 729-6331
emailCorreo electrónico
admisiones.lag@itesm.mx
Hasta
2°
semestre
Campus Hidalgo
add
phoneTeléfono
(771) 717-1855 y 57
emailCorreo electrónico
admisiones.hgo@itesm.mx
Hasta
2°
semestre
Campus León
add
phoneTeléfono
(477) 710-9000 ext. 5520
emailCorreo electrónico
admisiones.leo@itesm.mx
Hasta
2°
semestre
Campus Querétaro
add
phoneTeléfono
(442) 238-3158
emailCorreo electrónico
becas.qro@itesm.mx
Hasta
2°
semestre
Campus San Luis Potosí
add
phoneTeléfono
(444) 834-1000 Ext. 4138
emailCorreo electrónico
admisiones.slp@itesm.mx
Hasta
2°
semestre
Campus Toluca
add
phoneTeléfono
(722) 276-9999
emailCorreo electrónico
admisiones.tol@itesm.mx
Hasta
2°
semestre
Campus Puebla
add
phoneTeléfono
01 (800) 201-5915 ext 2063
emailCorreo electrónico
admisiones.pue@itesm.mx
Hasta
2°
semestre
Campus Ciudad de México
add
phoneTeléfono
(55) 5483-2025
emailCorreo electrónico
admisiones.ccm@itesm.mx
Hasta
2°
semestre
Campus Chiapas
add
phoneTeléfono
(961) 617-6090 ext. 95
emailCorreo electrónico
admisiones.chs@itesm.mx
Hasta
2°
semestre
Campus Estado de México
add
phoneTeléfono
(55) 5864-5518 ext. 5519
emailCorreo electrónico
admisiones.cem@itesm.mx
Hasta
2°
semestre
Campus Cuernavaca
add
phoneTeléfono
(777) 362-0804 / 044 777 523 8965
emailCorreo electrónico
admisiones.cva@itesm.mx
Hasta
2°
semestre
Campus Guadalajara
add
phoneTeléfono
(33) 3669-3000
emailCorreo electrónico
admisiones.gda@itesm.mx
Hasta
2°
semestre
Campus Sinaloa
add
phoneTeléfono
(667) 759-1600 ext. 1614
emailCorreo electrónico
admisiones.sin@itesm.mx
Hasta
2°
semestre
Campus Sonora Norte
add
phoneTeléfono
(662) 259-1000
emailCorreo electrónico
admisiones.son@itesm.mx
Deja tus datos para más información
Confirma tu asistencia a la sesión informativa