Yareni Yunuen Gutiérrez Gómez - Faculty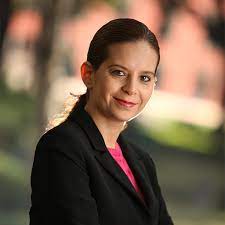 Yareni Yunuen Gutiérrez Gómez
Regional Director of the Nutrition Department
School of Medicine and Health Sciences
Campus Mexico City
---
Expertise
Clinical Nutrition
Nutritional Sciences
Contact
mail ygutierrez@tec.mx
radio_button_unchecked
radio_button_checked
"Of the great universe of clinical nutrition, I became interested in non-communicable chronic diseases because they are the main challenge of every health professional."
What led Yareni Yunuen Gutiérrez Gómez to study clinical nutrition and specialize in non-communicable chronic diseases and population health was the fact that diseases could be prevented or treated thanks to it. She became interested in studying non-communicable chronic diseases (cardiovascular disease, diabetes, obesity, cancer) because these cause 72 percent of deaths worldwide; however, their main risk factors can be avoided and are associated to nutrition.
When Gutiérrez Gómez understood that individual treatment was influenced by many other far-reaching factors (social determinants of health and nutrition), she focused in population health. Observing existing programs and policies in México with a macro-approach, she can prevent ailments that generate a high psychological, economical and social cost. Although she considers the main challenge of her profession to be the modification of inappropriate lifestyles in people, she is also aware of the urgency of human resources in healthcare matters, which is why she is also passionate about teaching.
She is convinced that empowered nutritionists can be agents of change in whatever environment they work in, they will help enrich the discipline and will contribute, together, to the progress of their country.
radio_button_unchecked
radio_button_checked
Basics of Good Health
Clinical Nutrition Assessment
Nutrition in the Life Cycle
Obesity and Metabolic Syndrome
radio_button_unchecked
radio_button_checked
Doctorate in Science in Population Nutrition
Master in Nutrition Sciences, Universidad de Chile
Degree in nutrition, Universidad de Guadalajara

radio_button_unchecked
radio_button_checked
Involvement of the food industry in nutrition conferences in Latin America and the Caribbean. Public Health Nutrition. 24:1559-1565. 2021

Interventions to Prevent Obesity in Mexican Children and Adolescents: Systematic Review. Prevention Science. 2021

Association between birth weight and cardiometabolic risk factors in children of Bucaramanga, Colombia Asociación entre peso al nacer y factores de riesgo cardiometabólicos en niños de Bucaramanga, Colombia. Nutricion Hospitalaria. 34:1105-1111. 2017

Prenatal docosahexaenoic acid supplementation does not affect nonfasting serum lipid and glucose concentrations of offspring at 4 years of age in a follow-up of a randomized controlled clinical trial in Mexico. Journal of Nutrition. 147:242-247. 2017

Augmented-Sugar Intake: A Mobile Application to Teach Population about Sugar Sweetened Beverages. Procedia Computer Science. 75:275-280. 2015
radio_button_unchecked
radio_button_checked
Representative of Mexico in the Workshop of Latin American Nutrition Leaders 2018 and member of the Network of Latin American Nutrition Leaders (LILANUT), conferred by the Latin American Nutrition Society, 2018

Speaker at the National Forum of the Parliamentary Front against Hunger in the H. Chamber of Deputies. Parliamentary Front against Hunger, Mexico chapter. Legislative Palace of San Lázaro, conferred by H. Chamber of Deputies, 2016