RISE Competition Call
From Universitas21 Consortium
FINALISTAS

1. Benefits of the scholarship

2. Participation requirements

3. Evaluation Committee

4. Proposal

4. Timeline

5. FAQ

7. Finalists

GANADORES AÑOS PASADOS
De acuerdo con la evaluación posterior a la sesión de retroalimentación con los miembros del comité evaluador, nos complace anunciarte que el comité ha seleccionado a los dos proyectos elegidos para representar al Tecnológico de Monterrey en la competencia internacional RISE (Real Impact on Society and Environment) de U21.
Los proyectos finalistas son:
1. Celal-Mex
2. Mi'Kobol
¡Muchas felicidades!
La Vicerrectoría de Internacionalización agradece a todas y todos los estudiantes que participaron en esta convocatoria y enviaron su expediente. Reconocemos de manera especial a los equipos SeaGas y SIMAGUA AV por su desempeño y alto compromiso con el medio ambiente y la sociedad.
*Los representantes de los proyectos finalistas estarán recibiendo un correo de confirmación y los pasos a seguir desde la cuenta itesmvi@servicios.itesm.mx.
Closed call! Thank you!
What are the benefits?
An award of $2,000 USD for the winning projects in four prize categories: "Most Impactful", "Most Innovative", "Most Potential" and "Most Collaborative"*.
The winners will receive a support package (access to conferences, professional consulting) to help them develop their projects.
Certificate for finalists and letter of congratulations from the President of U21 to all the participants.
International exhibition on the U21 website.
Form part of the global network of socially innovative students.
*In case of winning, the team must have a bank account that accepts deposits in dollars (USD).
What are the requirements for participating in the Tec call – round 1
The first round of this call will be focused on the search for the three projects that will represent Tecnológico de Monterrey in the international competition. The requirements and criteria for first-round applications are:
Undergraduate students from any program and academic curriculum from the 26 Tecnológico de Monterrey campuses can apply.
Students must be enrolled with regular standing at a Tecnológico de Monterrey campus during the Fall Semester: August-December 2021.
Students must not have been placed on academic or disciplinary probation.
Projects submitted can be individual or from teams of up to seven (7) students.
The project must directly address at least one of the United Nations Sustainable Development Goals. Examples of projects from previous years can be seen here.
The evaluation of the applications carried out by a Selection Committee made up of experts in Social Innovation from Tecnológico de Monterrey. The Evaluation Committee will designate the four (4) finalist projects according to the guidelines sent in this call. The finalists will be announced on January 21st, 2022 via email and on this page.
How can I propose my project?
A file with application materials needs to be prepared for each project.
The file must contain:
1. Each participant's résumé (if applicable).
2. Executive summary, no more than two (2) pages, of the project which includes:
2.1 Project title
2.2 Goal(s) it impacts
2.3 Project background
2.4 Current stage of the project
2.5 Results obtained (if applicable)
2.6 Future impact vision
3. Video no more than two (2) minutes long that explains and complements the executive summary. Upload your video pitch to YouTube in private mode (free-form video libre, no special file format is required).
4. Statement of purpose that describes:
4.1 Why my project deserves to be selected as a finalist and winner of the RISE competition?
Once your application materials have been compiled in the aforementioned order, you should complete your electronic registration, attaching the materials in a PDF file no larger than 5MB. Registration link: https://form.jotform.com/203315607379861
Deadline: November 26th, 2021
TEC Call – First round
TEC call opening
October 26th, 2021
Application deadline
January 12th, 2022
Evaluating TEC Committee
January 17th, 2022
Announcement of finalists
January 21st, 2022 (tentative date)
RISE Call - Finalists Announcements
Preparation of final video for the RISE international competition
January 24th to February 25th, 2022
Submission of video to the Vice Rectory for International Affairs
February 28th, 2022
Nomination of final projects to U21 by the Vice Rectory for International Affairs
March 7th, 2022
Deadline for nominations by universities to U21
March 16th, 2022
U21 RISE Deliberation Committee
April 2022
Announcement of winners
April 2022
What is the first round of the call?
The first round is an internal competition at Tec to identify the three student projects that will participate as finalists at the international level. Applicants must compile a file with the aforementioned requirements and wait for the decision of the Tec de Monterrey Evaluation Committee.
I don't meet the requirements. Can I still participate?
No. If you don't meet all the stipulated requirements in full and any documents are missing from the application materials, your application will automatically be rejected.
My team is made up of another seven (7) members. Can we participate with more than seven (7) people?
Yes. If your team is made up of more than 7 members, you can select a maximum of 7 people as team representatives for the nomination.
My project is still an idea and has not yet been developed. Can I participate?
No. The project has to be in the development stage, not just an idea. Positive actions must have been taken to transform the idea into a reality. However, this does not mean that it has to be a large or a small enterprise; consult the attached image for further details.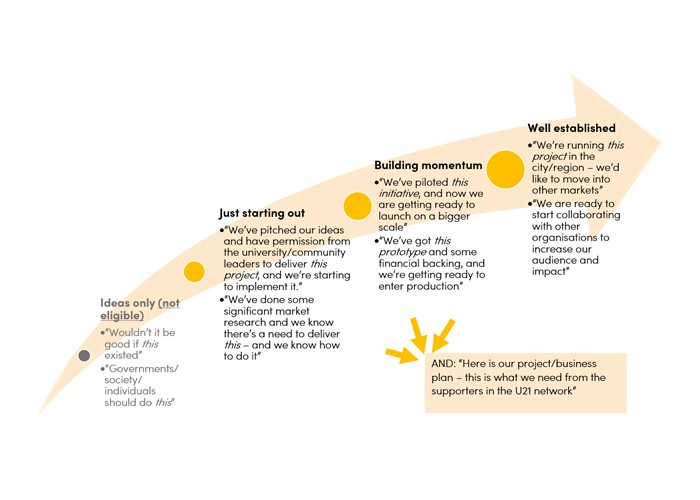 My project was selected as one of the three representatives of Tec in RISE. What's the next step? What is the second or finalist round?
If you are a finalist, you can represent Tec de Monterrey in the RISE U21 international competition.
You and your team will have to make a second video of the project and this is the one that will be officially presented in the competition. Finalist projects will receive detailed information on this round later on.
Can I submit my project directly on the U21 RISE competition website?
No. Nomination as a finalist is through Tecnológico de Monterrey's Vice Rectory for International Affairs. Individual nominations directly to U21 are not permitted either before or after round 1.
If I applied last year, can I apply again?
Yes. It does not matter if you applied by yourself or with a team, you can apply again.
My team has members of students from universities that does not belong to U21, can we participate?
No. Only students from U21 universities can apply. Check HERE which universities are part of U21.
There are going to be a total of four (4) teams selected?
No. There are two (2) vacancies for projects with only Tec students and two (2) other vacaciones for projects conformed by Tec students and students from other universities of U21.
Contact for questions and further information
The Vice Rectory for International Affairs will be able to answer your specific questions or provide any inform itesmvi@servicios.itesm.mx
The Vice Rectory for International Affairs thanks all the teams that participated.

After a very competitive selection process, we want to announce that the Selection Committee has determined the two (2) projects that will represent Tec de Monterrey in the Universitas21 international competition.

The Finalists are:
1. SMAAD
2. ADUX
Congratulations!
The finalists will be receiving a confirmation email and the steps to follow.
Thanks to all the students who participated in this call and sent their file.
PROYECTO DE "MAYOR IMPACTO" EN EL 2022:

ADUX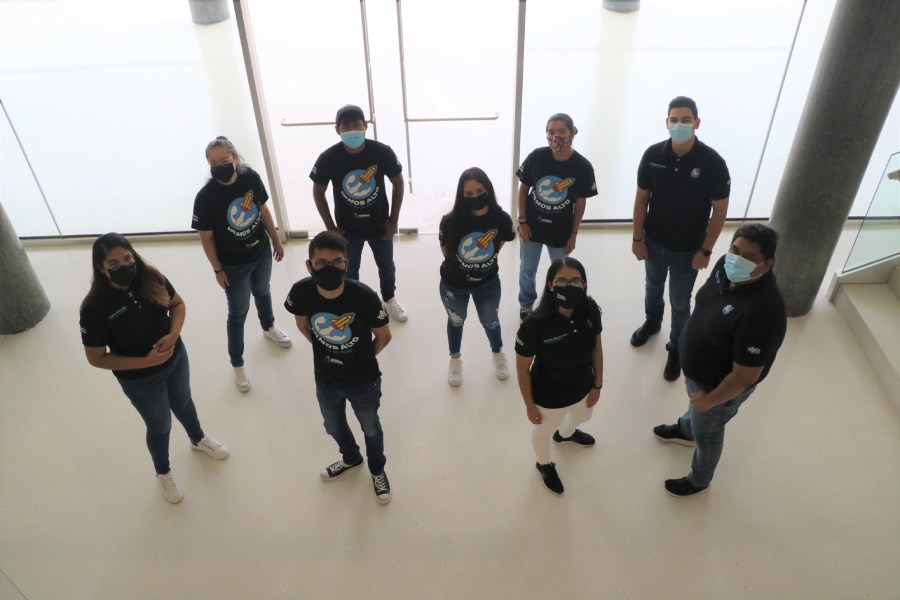 - Video: vimeo.com/687029083
- Nota Conecta: conecta.tec.mx/es/noticias/nacional/educacion
PROYECTO DE "MAYOR IMPACTO" EN EL 2021:

PROYECTO 99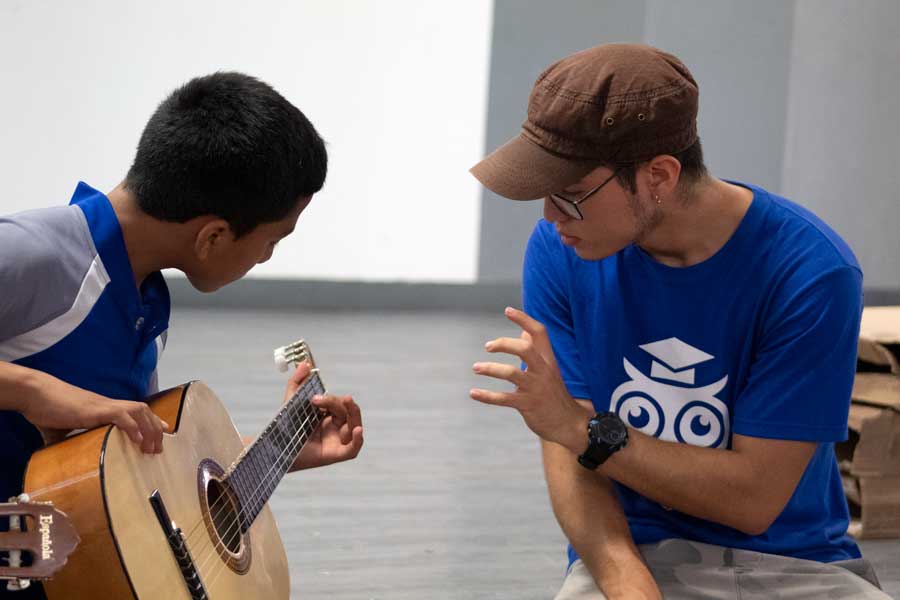 - Video: vimeo.com/529300197
- Nota Conecta: conecta.tec.mx/es/noticias/nacional/educacion