news
state mexico
education
Prototype made by PrepaTec student competes at MIT
The prototype by a PrepaTec student from the Esmeralda campus extracts features from famous real paintings to generate new images.

SmArt is the name of the prototype developed by Adrián Hernández Peña, a fifth-semester student on the International Baccalaureate program at PrepaTec Esmeralda, with which he took part in the Beaver Works Summer Institute organized by the Massachusetts Institute of Technology (MIT). 
BWSI is a four-week summer camp for Americans at MIT. It was developed to introduce and give high level and very technical engineering workshops on topics such as how to build 3D printers or programming autonomous cars, and all participants present a project at the end of the four weeks.
The camp was held on July 31 and this was the fourth consecutive year that PrepaTec Esmeralda has participated in this competition.
This year, as a result of the current pandemic, the camp was held virtually, and there were therefore no first, second, and third place awards.
"From the moment I started at the Tec, there was the possibility of going to this MIT contest, and it was something that definitely caught my attention.
"This year, as a result of the emergency, I knew that things were definitely going to be different and that there were going to be important changes. Luckily, the category in which I participated, which was artificial intelligence, could take place without many resources remotely," said Adrián.
Creating new works of art 
The program developed by the student is powered by artificial intelligence and is capable of training the computer using images of real paintings. It learns to replicate them and extract features so as to generate new images based on what has been learned.
"Aside from computers, I also have a great passion for art: drawing, painting, and sculpting. So, I decided to join my two passions to create something new because I feel that you can find a lot of value in both disciplines when you combine them. 
"When I saw what the capabilities of artificial intelligence were, art came to my mind, and also the idea of creating AI that would generate paintings. At first, I had only a vague idea of how to do it, but that was my initial inspiration," says the student.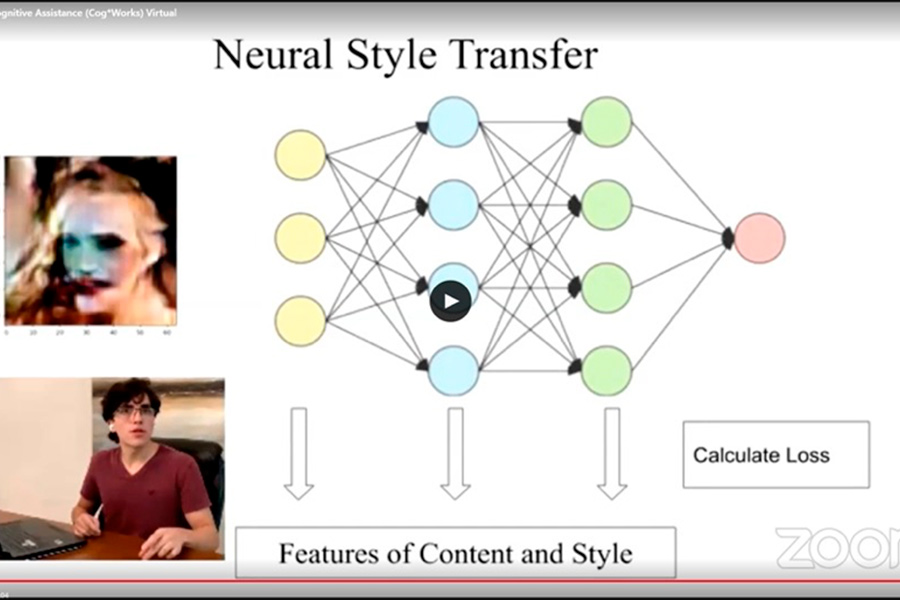 This competition is attended by students with the highest GPAs of all the schools in the United States.
PrepaTec Esmeralda students participate as guests and usually take training for two weeks with MIT professors.  
As this most recent camp was virtual, the PrepaTec Esmeralda student could not take classes at MIT and only participated in the competition.
"The agreement that was reached is that I could participate on the day of the contest, but that in-person training could not be provided to me, like it was to the rest of the participants during the four weeks. 
"I understand that because of the importance of the event, and I am very grateful that a space was made for me to participate at the event. I was lucky," says the student.
It is important to note that the projects presented in the artificial intelligence category are usually developed by teams of five to six people with mentoring sessions.
"Even though I didn't have that support, I made a lot of effort to be able to produce a project on my own and make it look pretty good. I did a lot of research on my own, I trained myself, and I developed the project alone.
"I had to do my project with only a very limited amount of mentoring a few days before the presentation, in which I was told what format I should use for the presentation and what I had to do to present the project.
"I suppose that if I say this out of context, it might sound like it was a situation that had me at a disadvantage, but it wasn't like that. I enjoyed what happened because I know that what I achieved there I did on my own, and I know that what went into my project was thanks to me, without help from external sources," he said.
Ranked alongside the best institutions in the United States
The competition was conducted using an online platform. Here are some of the institutions against which Adrián's program was judged:
Massachusetts Institute of Technology
MIT Lincoln Laboratory
MIT Lincoln Laboratory / School of Engineering Beaver Works
MIT AEROASTRO
CSAIL
MIT EECS
MIT OFFICE OF DIGITAL LEARNING
MIT MECHE 
"I really loved the experience because doing everything on my own made me learn and gain a collection of incredible skills that I can now put into practice. I'd say it was worth it," he says proudly.
The pandemic: an opportunity to go beyond the classroom
Finally, Adrián gives this motivational message to his classmates to encourage them to participate in online competitions during the pandemic.
"The pandemic that we are currently going through has changed many things, but the experience that I had was a good example of another set of things that I have been able to do. These have taken place thanks to the fact that everything is being done online. 
"One benefit of this being online was that I didn't have to spend on travel to participate in the summer course. I'm not saying that the situation is good in any way, but it does go to show that great opportunities can be found even in adversity," concluded Adrián.
YOU'LL DEFINITELY WANT TO READ THIS TOO:
Seleccionar notas relacionadas automáticamente
1