Thanks to her scientific work, Dr. Janet Gutiérrez has achieved one of her goals and that of many Mexican scientists: to win an Academy of Sciences award.

Around 2,500 citations from her scientific papers, 16 patents, and more than 30 graduate students are part of the background that the Mexican Academy of Sciences considered in order to honor Dr. Janet Gutiérrez with the "2020 Research Award".
"I'd been applying for this award since 2016 and after five attempts they gave me the good news", shares Gutiérrez, who is also director of the Department of Sciences for the Southern Region at Tecnológico de Monterrey. 
This is the greatest honor that the Academy awards annually to researchers under the age of 43 who dedicate their scientific work to Mexico.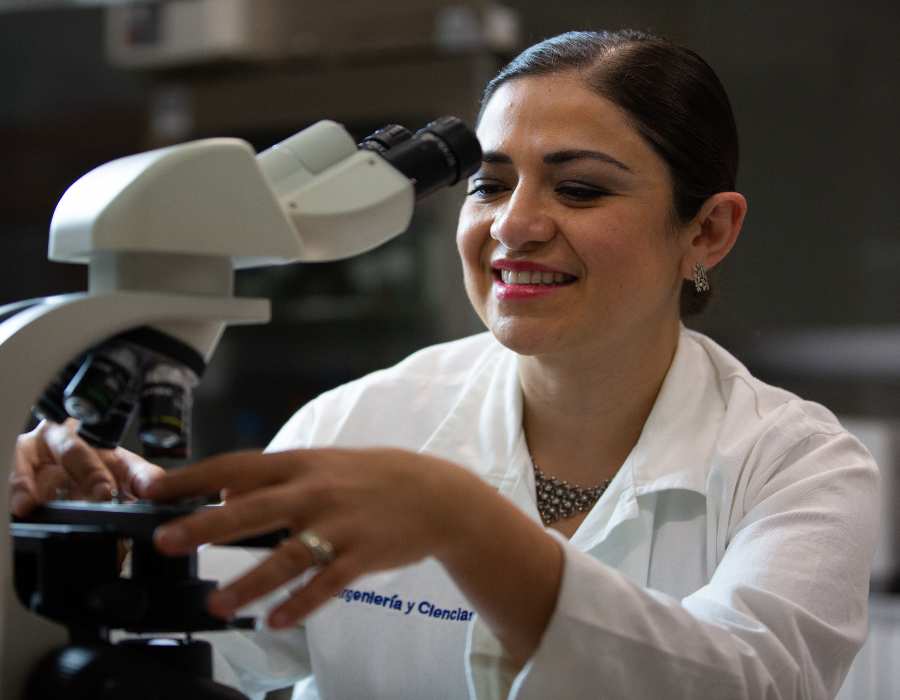 ""I have international collaborations with institutes such as John Hopkins, Texas A&M, and very actively with CECIC, the equivalent of CONACYT in Spain."
Grants with Colombian universities and the business sector also added to assessment of this researcher's career.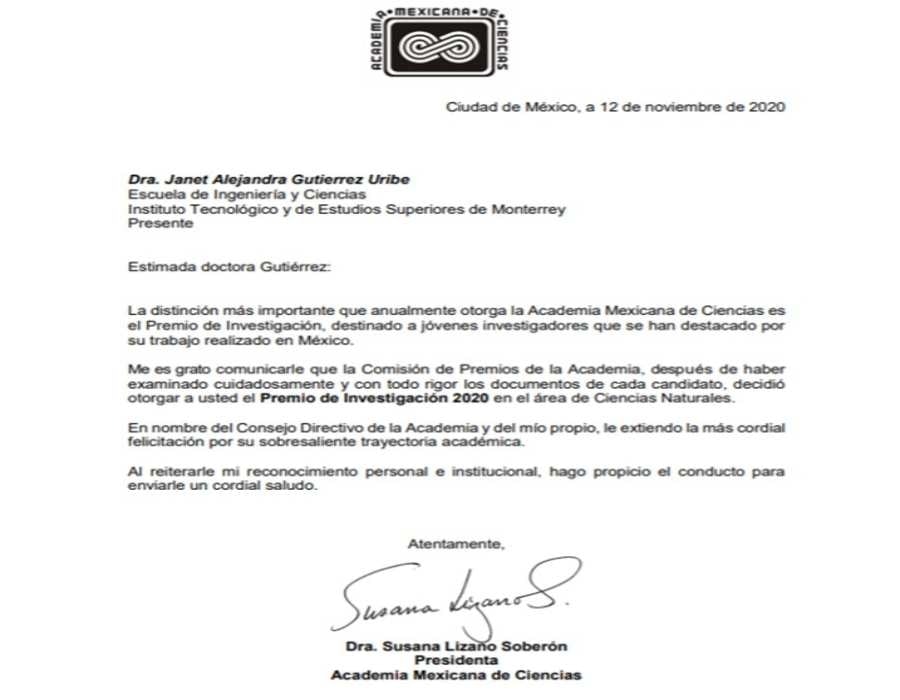 Merits for the award
One of the requirements to deserve the Academy's award is for young scientists to be at level 2 or 3 of the National Research System (SNI), with clarity when it comes to their projects, productivity, and international impact.
Thus, Dr. Gutiérrez, with the certification of SNI Level 3 researcher, which she received this year, added one more point in order to obtain the award. 
The award has been granted for 50 years and it's the second time that a member of the Tec de Monterrey community has received it. This hadn't happened since 2010, with Eduardo Rodríguez Oreggia y Román, award winner in the area of Social Sciences.
Research in biology, biotechnology, sustainable development, ecology, and other areas of Natural Sciences strengthened Dr. Gutiérrez's résumé.
"When I received the news, my mentors and the people that trained me as a scientist came to mind, as well as all my graduate students".
The professor points out that the building of her career has gone hand in hand with her postdoctoral students, scientists belonging to the SNI.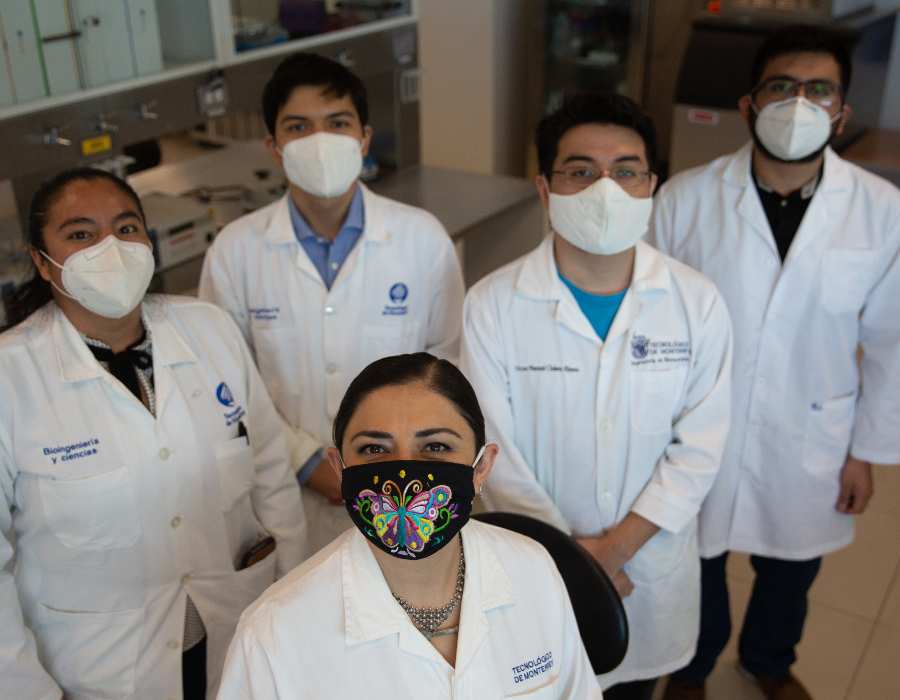 "I also began to think, who among them would continue on this path, and how can I help so that all the human resources I've developed over my career as a researcher can be deserving of this award?"
Breaking down obstacles
Dr. Gutiérrez mentions that one of the "small" difficulties when applying for the recognition was assembling the folder with the evidence of her scientific work.
"It's a very good exercise, because even if you already have it in order, previously in physical format and now in digital format, you realize what you've done and you wonder, when did I do all of this?"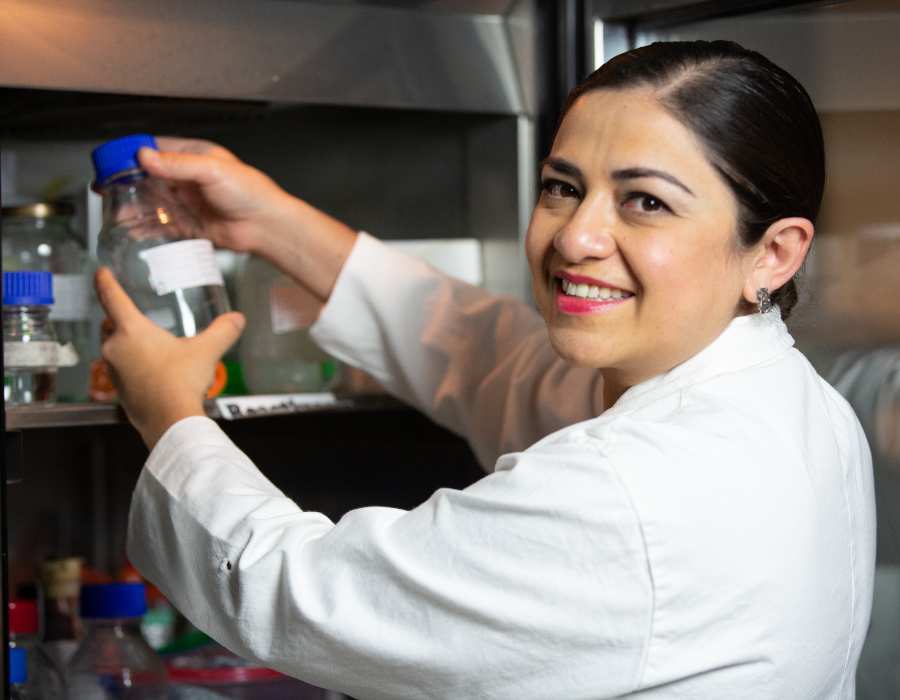 This year alone, Dr. Gutiérrez has worked on 16 papers and managed to obtain a patent, as well as working on a research proposal.
"It's a commitment as a leader of professors and a demonstration of how to be efficient with time management and to prioritize things that have an impact on students and society."
Janet Gutiérrez obtained her PhD in 2006 and since then she's made herself accumulate more and better scientific work every year.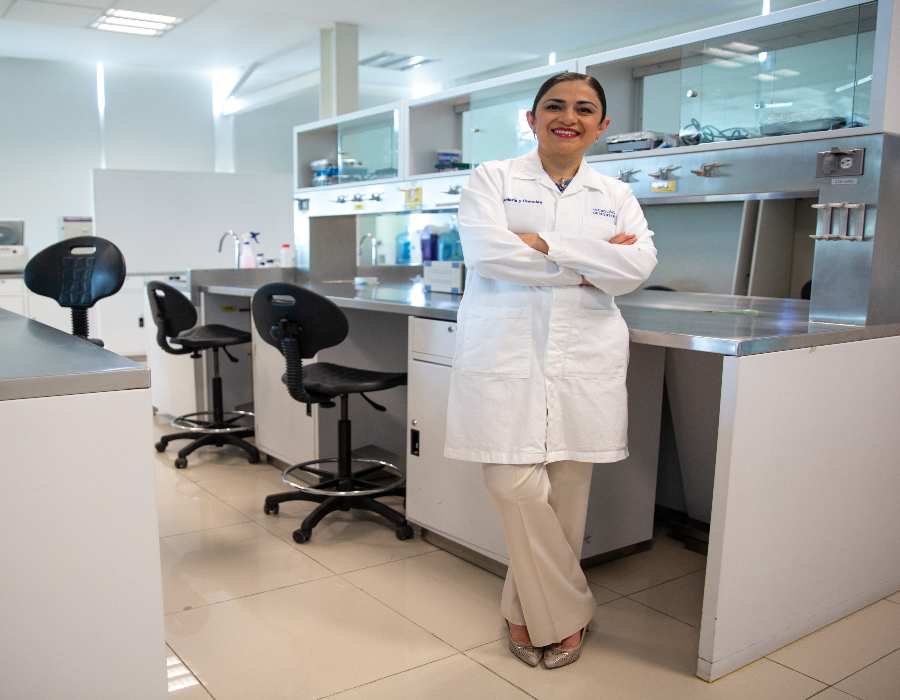 The winner of the Research Award announced that her plan for the future is to continue her work and to win those awards to which consolidated researchers aspire.
Training young people for the scientific and technological development of Mexico is also part of her plan.
"I'm proud of it. It's a way of telling Mexico that we do research at Tec de Monterrey, that we're committed to the transformation of the country, and that we inspire the careers of many young scientists with the best educational model."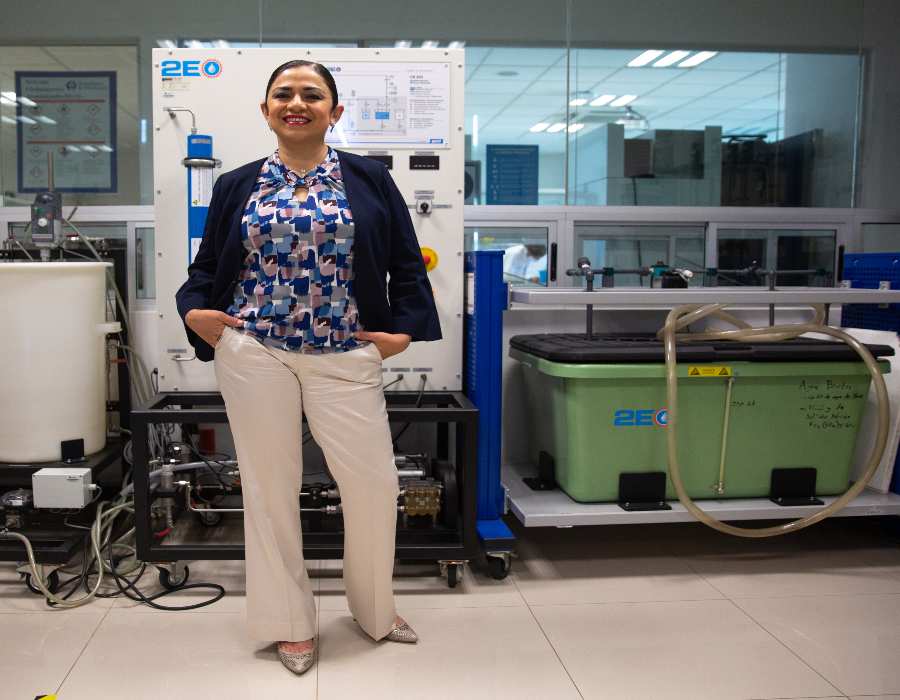 Finally, Dr. Gutiérrez referred to her students and colleagues who are just starting out on the path to science and research.
"Maybe I won't win a Nobel because of my age, for that you work from your twenties and you should know that what you did works by your thirties. You guys have the commitment that in the next 10 or 15 years at the Tec, just as we have this national recognition, we might also have winners of the Nobel Prize."
YOU SHOULD ALSO READ:
 
Seleccionar notas relacionadas automáticamente
1