Innovation Hub Tec-China is opening its doors in the city of Hangzhou to exchange talent and generate technological opportunities between Mexico and China
Mexico now has a new global space for training talent, generating innovation and accelerating scientific and technological startups: Innovation Hub Tec-China, located in the city of Hangzhou, in the province of Zhejiang.
This hub has emerged from the partnership between Tecnológico de Monterrey, the Mexico-China Center and the Jianggan district government, of the city of Hangzhou, which is in the province of Zhejiang in China.
For the Tec, this is a result of its strategy of liaison with the world's successful innovation ecosystems. China was chosen because it's a country that has turned science and technology into catalysts for its economy.
"This is our first research-focused operation outside Mexico in 75 years," said Salvador Alva, President of Tecnológico de Monterrey.
"The fact that it's in China is great news for triggering entrepreneurship and attracting talent, which are essential for leading Mexico towards the knowledge economy," he added.
For his part, David Garza, Rector of Tec de Monterrey, said that this hub highlighted the importance of 3 key "i"s in the Tec's strategy: innovation, investigation, and internationalization.
"We've taken a huge step that will encourage innovation and entrepreneurship between our teachers and academics from China, to generate interesting projects to the benefit of Mexico and China," he said.
THE INNOVATION HUB
Located on the 41st floor of the Qianjiang International Times Plaza building, in the financial district of Jianggan, Innovation Hub Tec-China will be a space for encouraging Mexican entrepreneurship and research based on science and technology.
It will also be a place for developing talent, as undergraduate and postgraduate students and research professors from the Tec will have the chance to visit there to provide a boost to their projects.
This 1,000 m2 space, to which another 4,000 could be added, has different areas: collaborative working areas, spaces for meetings, a startup area, as well as a Show Room displaying Tec de Monterrey's new Educational Model.
The inauguration was held this Thursday morning and was attended by the Chairman of the Board of the Tec, José Antonio Fernández and the President of the Tec, Salvador Alva, as well as important academic and political authorities from the Chinese region of Zheijang.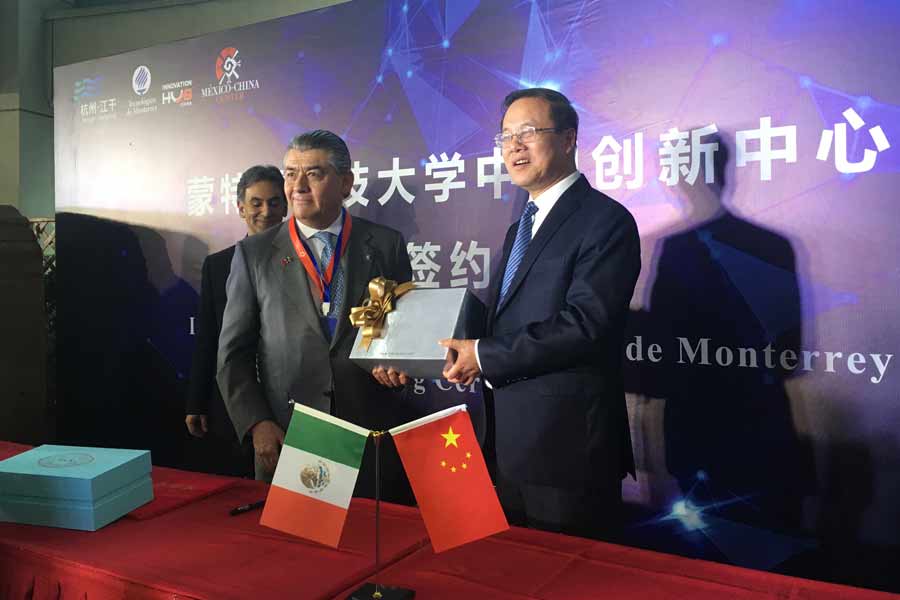 INTERNATIONAL PARTNERS
Tec de Monterrey's strategic plan will run until 2030. One of its key differentiators is the creation of poles of research, innovation, and entrepreneurship.
"With this new space, the Tec is launching its initiative for global Hubs, beginning with China to encourage the attraction of talent, generation of knowledge, development of innovative products, and the creation of technology-based companies worldwide," said Arturo Molina, Vice Rector of Research.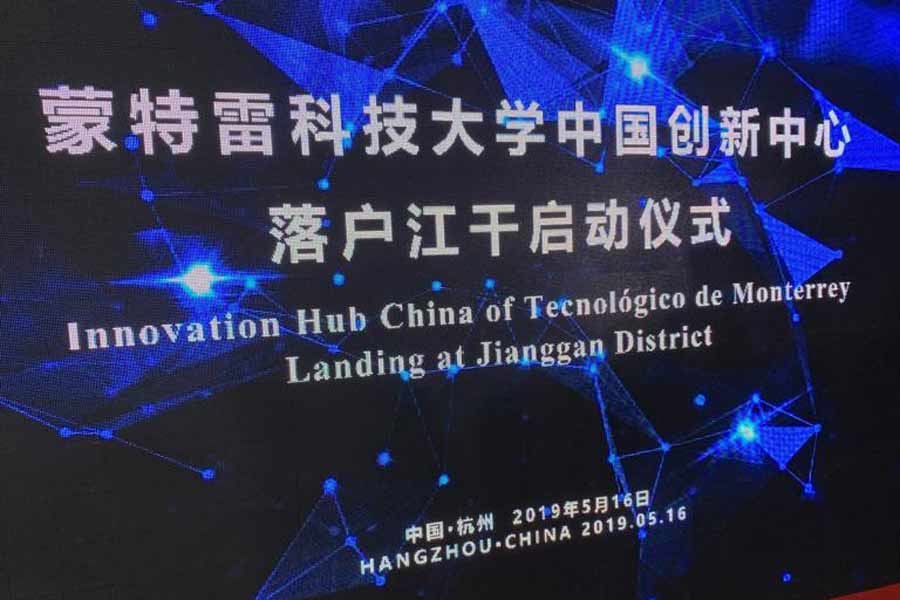 Specifically, Innovation Hub Tec-China will serve as a strategic point for:
Seeking technological and commercial partners.
Transferring technology and intellectual property to the Chinese market.
Collaborating on research with universities and developing technologies for Chinese and Mexican markets.
Supporting the creation of startups in China and joint ventures with companies in the Zhejiang region.
Co-developing and scaling technology.
Besides this hub in China, the next points where the Tec will seek involvement are Singapore and Israel.
WHY CHINA?
In the latest report from the OECD on China (April 2019), this country continues to be the largest engine for economic growth in the world. The international organization emphasizes that an essential part of this has been its investment in science and technology.
On the academic side, China has 6 universities in the top 100 of the QS World University Rankings, which qualifies the finest universities in the world.
It's been three years since Tec de Monterrey began to build its relationship with the province of Zhejiang, which has specialized ecosystems in the development of technologies and public policies that support the creation of new companies.
This partnership enabled the Mexico-China Innovation Center to be set up in the city of Monterrey in 2018, to provide a boost to technology-based companies created by Tec de Monterrey.
Based on this liaison, collaboration agreements have already been signed and work has already begun on projects with Hangzhou Dianzi University, Zhejiang University of Technology, MOKE, IPExchange, Municipal Government of Quzhou, and Hangzhou Jianggan District.
Now, with the inauguration of Innovation Hub Tec-China, the Tec seeks to become a catalyst for the Mexico-China trade relationship, providing stronger connections and the opportunity of access to their markets.
READ ALSO:
Seleccionar notas relacionadas automáticamente
1