Garza presented at the 12th "Reinventing Higher Education" conference alongside international experts.
David Garza, rector and executive president of Tec de Monterrey, shared 3 elements necessary when resuming in-person classes so they can be reimplemented in higher education.
Garza participated in the 12th "Reinventing Higher Education" event, organized by the Guido Carli Free International University (LUISS University) in Rome, Italy, and IE University in Spain.
The conference brought together international experts to discuss the role of universities as global agents for innovation and the need for educational systems to be receptive to and catalysts for positive changes in society.
"I think that we, as universities, will be evolving to become multi-diverse, multi-modal and multi-experiential," shared Garza.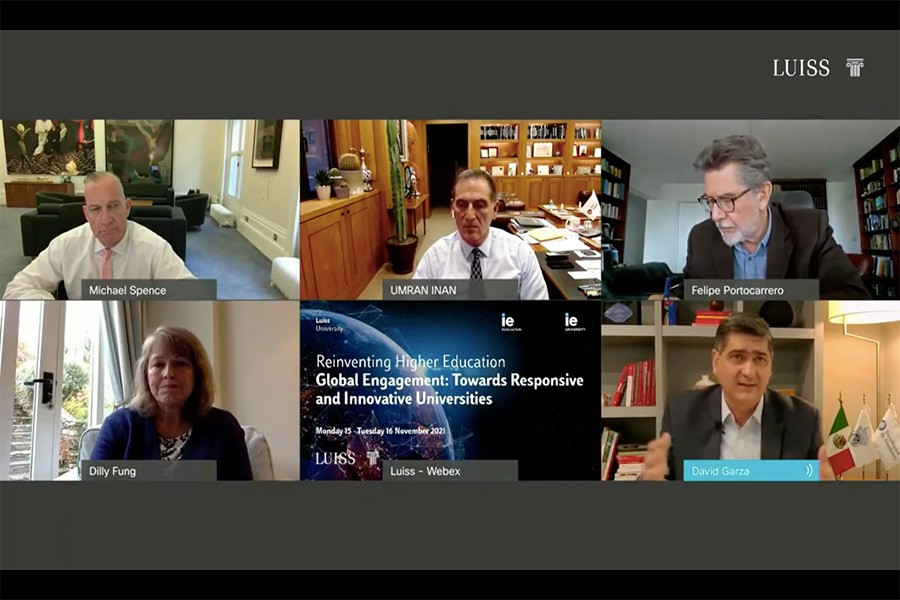 3 elements to resume in post-COVID education 
Garza emphasized resuming these 3 elements in education during his participation on the "Evolving Structures and New Learning Models" panel:
Garza said that, although technological elements and distance education are here to stay, an important aspect of university life is the social experience.
"Universities have put resilience, sensitivity and ingenuity for adaptability into practice," said Garza.
The university experience
The Tec de Monterrey rector also commented that a university is not only what happens within its classrooms; it is also shaped by interactions in other contexts. 
"The university experience also happens at cultural and leadership events, and even in the cafeteria," shared Garza.
"The university experience also happens at cultural and leadership events, and even in the cafeteria." - David Garza
"Around 60% of students at Tec de Monterrey graduate having had an international experience," said the rector.
Garza explained these activities have not been resumed because of the pandemic, but that internationalization did take place through remote interactions from home.
"We've implemented what we call Global Classroom, which allows students and teachers from different parts of the world to work with us," Garza explained.
Experts meet to discuss the future of education
The conference was held on November 16, as part of the 12th annual 2-day initiative, which began the day before.
Also participating were Dilly Fung, Director of the London School of Economics; Umran Inan, former president of Koç University, Turkey; Felipe Portocarrero, president of Universidad del Pacífico, Peru; Simona Romani, Vice Chancellor of LUISS University; and Michael Spence, President of University College London.
The experts also discussed the importance of providing the necessary skills for professional performance. 
"The COVID-19 pandemic has challenged the meaning of the campus experience, as well as the way in which the academic curriculum and extracurricular activities complement each other to prepare students," said Michael Spence.
Last to be discussed was the development of partnerships with organizations to provide complementary qualifications. 
"Universities should focus on creating programs that prepare students for the future and jobs," shared Simona Romani, Deputy Rector of LUISS University. 
Hosted in Rome, Italy, the panel was held in hybrid format and broadcast online.
CONTINUE READING:
Seleccionar notas relacionadas automáticamente
1