Tec Forever was the virtual graduation event for the Tec de Monterrey class of 2020. Graduates will receive a digital diploma on Blockchain.

With Hillary Clinton as guest speaker, Tec de Monterrey held its virtual Tec Forever ceremony to celebrate the graduation of more than 5,000 undergraduate and postgraduate students from 26 campuses.
The Tec class of 2020, which included 4,177 new professionals and 922 postgraduate graduates, had a unique experience, prior to their in-person graduation, in a live broadcast that included their families, as well as university leaders and faculty.
Clinton, the former first lady and United States presidential candidate, addressed a few words to the graduates in which she stressed that fear can either paralyze or mobilize us.
"Over the past 50 years, I have seen almost every possible response to fear that a person can have and what I have learned is that we have a choice. Fear can paralyze us or move us to action. Class of 2020: that's your decision," said Clinton.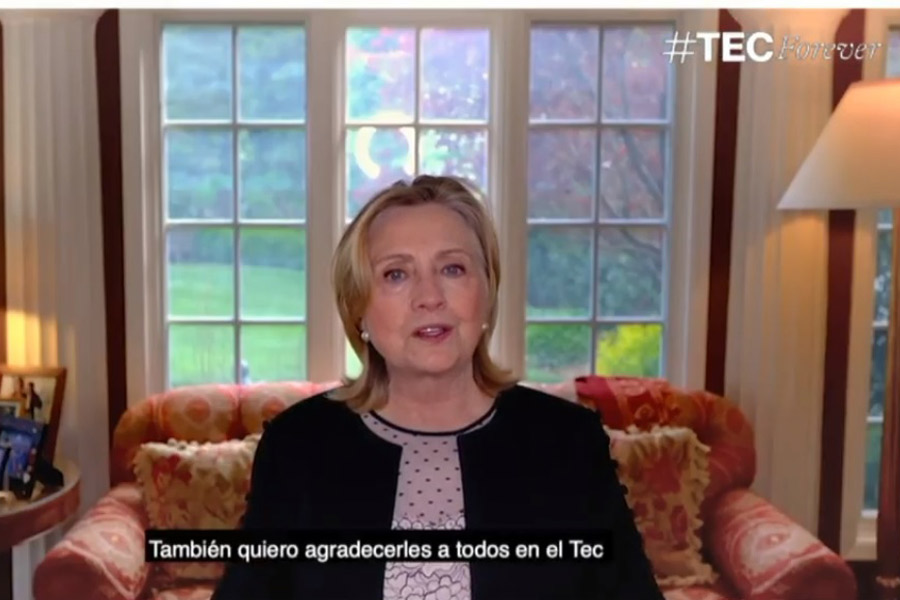 HILLARY CLINTON'S MESSAGE TO TEC GRADUATES
The US Secretary of State from 2009 to 2013 said that she had no doubt that the future of Mexico and the world would be shaped largely by Tec graduates.
"Keeping people safe and healthy, and rebuilding the global economy will require new skills, knowledge, creativity, and entrepreneurship. These are all the things that the Tec has instilled in you and in your education.
"I not only congratulate you; I also say that I'm really counting on you. I'm looking forward to seeing how you leave your mark on our world. So, graduates: get going, and best of luck," concluded Clinton.
During the Tec Forever ceremony, which took place virtually due to social distancing measures put in place as a result of the COVID-19 pandemic, graduates received their digital diploma using Blockchain technology, which facilitates verification of their authenticity anywhere in the world.
Tec was the first Mexican university to offer degree diplomas with this technology in 2018, and joins the very small group of pioneering universities in the world with this ability.
Tec Forever is not a substitute for the in-person graduation ceremony, which will be held when public health conditions allow.
A MOVING LAST MESSAGE FROM SALVADOR ALVA, TEC PRESIDENT
In what was his last message as Tec president after 8 years, and a few days before leaving office, Salvador Alva highlighted 5 key points in his final message to this graduating class:
Value your freedom of choice.
Use the power of your vision.
Persevere in order to achieve that vision.
Value diversity and surround yourself with talent.
Take advantage of your time. It is the most important thing in your life.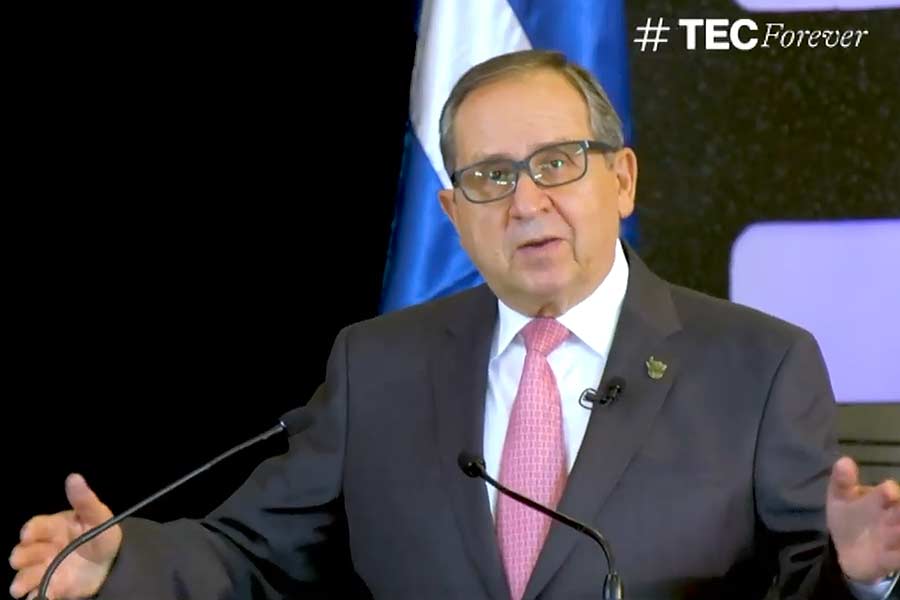 Alva said that the students now have the enormous challenge of putting their leadership and skills into practice in order to continue learning.
"Today, all of you should be accompanying me in this place. I can feel your absence. However, this place is full of your energy, your projects, your dreams, your desires.
"This is the time to demonstrate the usefulness and value of your Tec education. I am very confident that the world will be a better place. It will be in the hands of new generations: in your hands. If we see the world through your eyes, it will be a world full of opportunities," he said.
ENCOURAGEMENT FOR NEW GRADUATES
In the transmission on Facebook and YouTube, José Antonio Fernández, president of the Tec Board, and David Garza, rector and incoming president of the institution from July, shared messages with recent graduates.
Fernández called for an understanding that the times we are living through require not only fighting for individual, but also collective, success. 
"You must think responsibly about other people in Mexico. Always seek your own success alongside the wellbeing of others. Think, especially, of those who have the least or will not have the same opportunities that you have had," he said.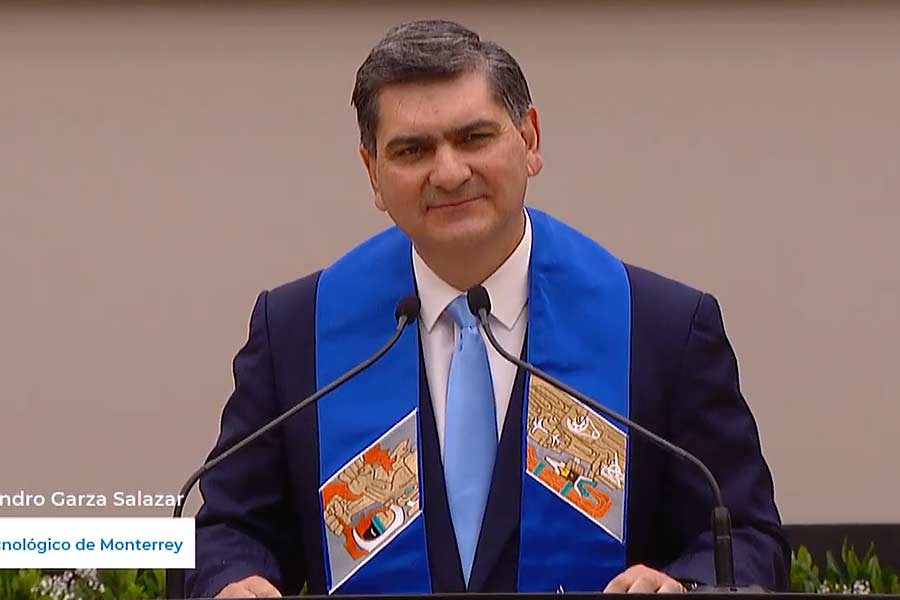 David Garza expressed his pride in the way in which the young people had reacted to this situation in an exemplary way.
"From today, you will be graduates of Tecnológico de Monterrey. Always be proud of the Tec because the Tec is very proud of you, and remember that it will always be your home," he said.
SHARED CONGRATULATIONS
During the Tec Forever broadcast, some graduates and family members were able to share their thoughts about the experience.
Various well-known personalities gave congratulatory messages to the new Tec graduates.
Elena Poniatowska, Bianca Marroquín, Eugenio Derbez, Antonio de Valdez, Jorge Ramos, Amelia Varcárcel, Peniley Ramírez, Guillermo Franco, among others, congratulated the graduating class.
During an emotional video, the Tec community applauded while other university leaders offered students messages to welcome them to the graduate world.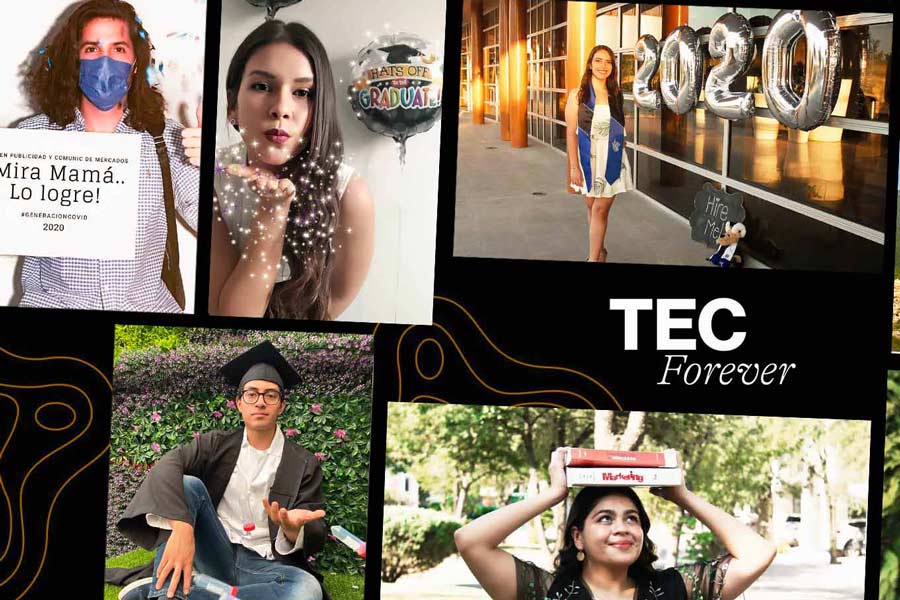 WHAT'S NEXT?
As a result of the worldwide COVID-19 pandemic, the Tec has created the Flexible and Digital Model (MFD) which is designed to guarantee continued academic progress, as well as continued participation in some of its sports, cultural and leadership activities.
This model has been evolving at the same time as the pandemic, and for that reason the Tec announced that next semester it will begin classes online and gradually introduce face-to-face activities, in a model now called HyFlex + Tec.
The key objective of the model is to maintain high standards of quality for students while prioritizing a safe environment for their professional and personal development, together with a memorable student experience.

GRADUATES, BY SCHOOL
Architecture, Art & Design: 458 graduates
Social Sciences & Politics: 302 graduates
Humanities & Education: 230 graduates
Engineering & Sciences: 2,421 graduates
Medicine & Health Sciences: 53 graduates and 170 degree candidates
Business: 1,635 graduates

READ MORE NEWS AT CONECTA:
Seleccionar notas relacionadas automáticamente
1