Juan Pablo Murra, Rector for Undergraduate and Graduate Studies at the Tec, shared the steps taken and challenges faced since implementation of the Tec21 educational model
Tec21, Tec de Monterrey's new educational model, was in its third semester when it became necessary to suspend in-person classes due to the COVID-19 emergency.
In 2 weeks, all Tec courses were migrated online, and 10,000 teachers were trained to teach their classes digitally.
These were some of the steps that the Tec took to adapt Tec21 for the global challenge that the world is experiencing, said Juan Pablo Murra, Rector for Undergraduate and Graduate Studies at the Tec.
"Technological platforms have allowed students and teachers to be connected and continue the process of learning and teaching without major difficulties," shared the rector during his talk at the 7th International Conference on Educational Innovation (CIIE).
In addition to the adaptations made during the pandemic, Murra also listed conclusions made as a result of the implementation of the Tec21 Model, as well as some challenges that have been detected.
Changes in teaching during the pandemic
For a semester and a half, Tec has guaranteed academic continuity through a flexible hybrid educational experience called HyFlex+Tec.
This model can be entirely online or, from now on, can include a combination of distance and in-person activities. As a result, it is possible to adapt it to changing scenarios, according to the epidemiological alert level in each city with a Tec campus.
"Up to now, HyFlex+ has enabled us to provide more than 1.3 million classes, Student Leadership and Education experiences, and community service activities," noted Murra.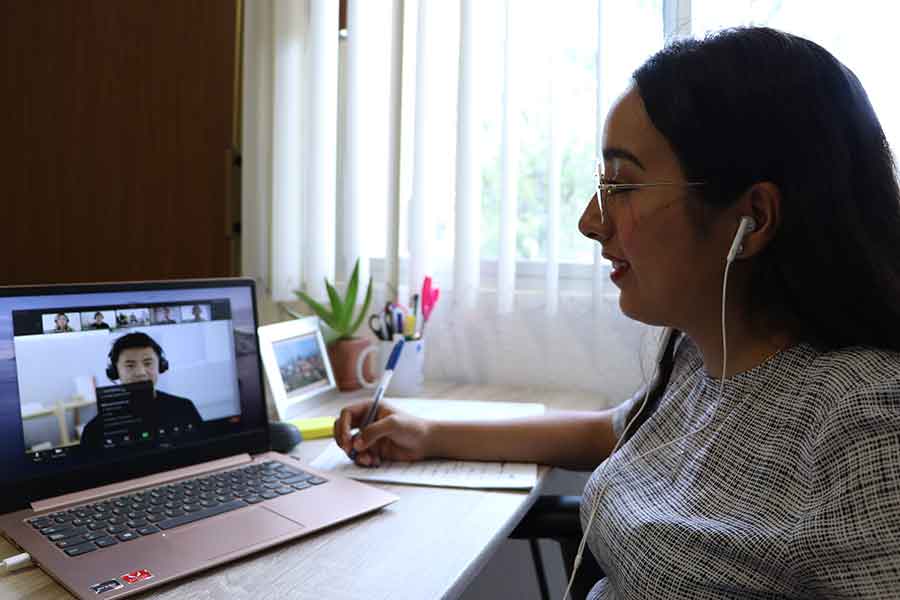 The rector for undergraduate and graduate studies explained how the Tec has prepared for an eventual return to classrooms via a Conscientious Return process.
Among the actions taken, he highlighted the reconfiguration of campus services and facilities, with more than 630 classrooms being equipped to offer the hybrid model.
"Some of the faculty are helping us to test the technology in the hybrid classrooms, and they are already teaching from campuses even though the students are still online," he added.
The Tec rector also explained that the pandemic has allowed the Tec and other educational institutions around the world to rethink how they teach by involving students and adopting new technology, although there are still challenges to be resolved.
"Universities need to address issues of access and coverage to improve the wellbeing of our communities through the use of technology and innovation," said Murra.
Topics such as Lifelong Learning, micro-credentialing, and collaboration between universities and businesses are topics that need to be worked on even more, he said.
The Tec21 Model: how it came about and what makes it special
Juan Pablo Murra dedicated part of his talk at CIIE to explaining the Tec's experience of shaping and implementing the Tec21 Model.
He pointed out that ever since Tec de Monterrey made the decision, efforts have been made to change the educational process.
"Since then, we have focused on our students having the skills to be leaders and being able to face 21st century challenges, some of which we have not even imagined yet," he stressed.
The Tec began the transformation process in 2013. Since then, teachers have begun to include activities that allow students to take part in real-world challenges.
This became one of the main pillars of the Tec21 Model. In August 2019, whole programs began using the new educational model.
Since then, Tec21 has been distinguished by its four components: challenge-based learning; flexibility as to how and when learning takes place; memorable university experiences; and inspiring teachers.
The first component ensures that students take part in experiential learning opportunities, in which they are exposed to real-world situations where they can apply and develop their knowledge and skills.
This led Tec to redesign all its syllabuses, Murra said.
"We have generated a different language: now we hear about challenges, blocks, modules, academic advisors, training partners (...) courses can now be 5, 10 or 15 weeks long; it has been an important transformational process in many ways," he explained.
In terms of flexibility, students now have more options: they can first explore areas of interest before choosing a degree and then specialize in one or more specialist areas of their choice.
"We're designing more than 100 specialist options, which are organized so that students can delve into topics within their discipline or from other disciplines which will complement their professional profile," shared the rector.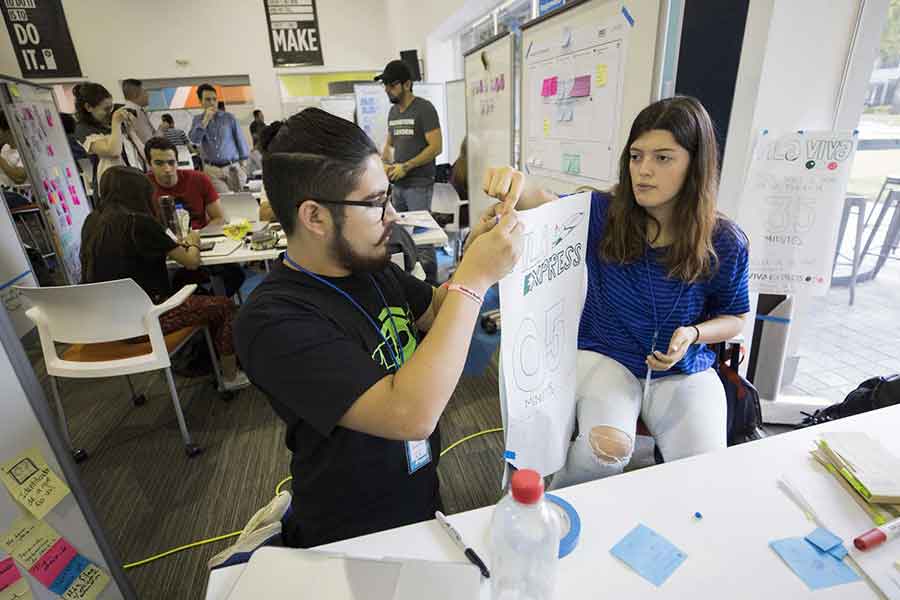 The third component, a memorable university experience, has made it possible to include sports, cultural, leadership, and wellbeing activities that complement students' studies on the curriculum.
"Many of the skills that we hope our young people develop are acquired through these types of activities," he said.
The inspiring teachers component encourages teachers to innovate with new teaching methods.
"Our faculty are inspiring students through their research, leadership within their discipline, their ability to connect with their students, or their use of new technologies and pedagogies," he explained.
The positive outcomes and challenges of Tec21
Murra explained that there are currently two cohorts of students, i.e. more than 25,000 students, who have studied using the Tec21 model.
In addition, about 6,000 faculty members have already given at least one course using this educational model.
The rector for undergraduate and graduate studies pointed out that Tec21 has sparked young people's interest: the number of applicants has increased, and retention rates have improved.
He said that organizations such as the World Bank, via the International Finance Corporation, have noted the Tec's experience with its new educational model.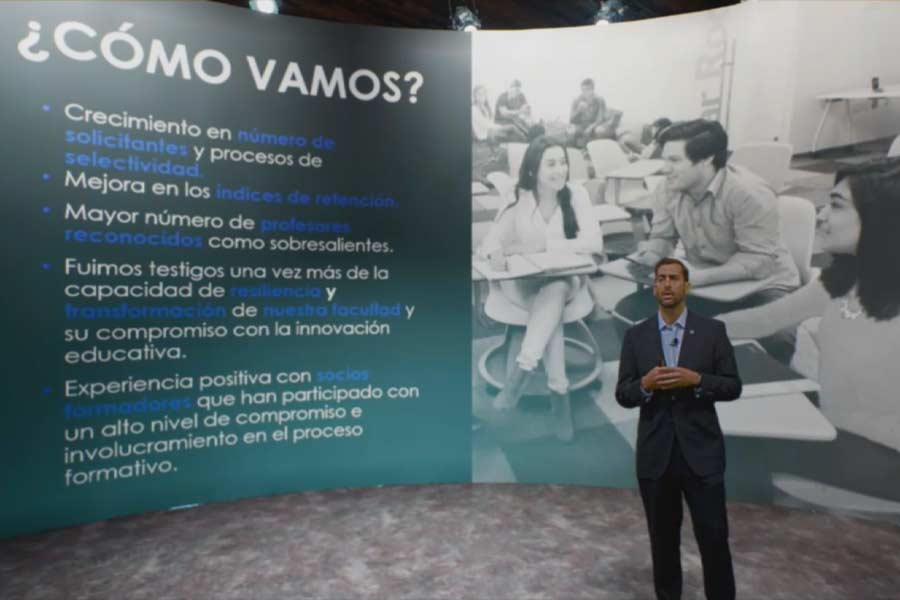 The rector also shared some challenges that have been identified within the Tec21 Model.
These include the intensity of courses and time required for both faculty and students, so the Tec will be working on greater coordination.
Another challenge that will continue to be reviewed is assessment that ensures students are developing key skills.
"Knowing whether students have developed skills in their subject area and interdisciplinary skills is more complex and requires greater effort in assessing them," he acknowledged.
Juan Pablo Murra's complete talk is available via the following link (in spanish):
ALSO READ:
Seleccionar notas relacionadas automáticamente
1