The conference was coordinated by Innovation HUB Tec-China as part of the COVID-19 Mexico Challenge initiative
Chinese health specialists shared their experiences of the struggle against COVID-19 with Mexican doctors during an online conference coordinated by Innovation HUB Tec-China.
Doctors from the Chinese Center for Disease Control and Mexican doctors from public and private hospitals in Nuevo León, Jalisco, San Luis Potosí, Oaxaca, and Guerrero took part in the conference, entitled China's Experiences in COVID-19 Prevention and Control.
"This is one of the first results of an initiative called the COVID-19 Mexico Challenge. It was attended by more than 40 Mexican doctors and Chinese doctors who were at the epicenter of the epidemic in Wuhan," explained Patricia Mora, Director of Global HUB Innovation at the Tec.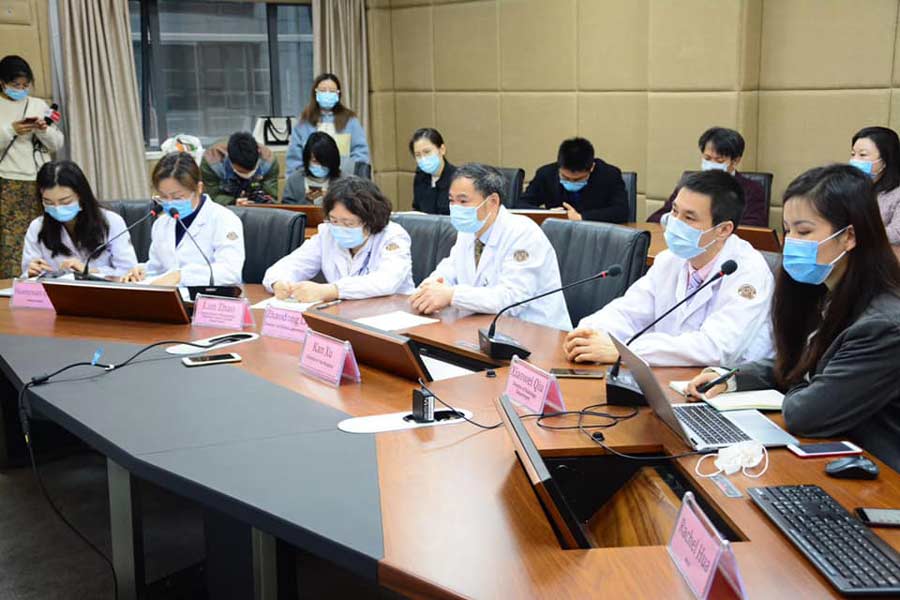 SHARING THEIR EXPERIENCES OF THE PANDEMIC
The conference was held on April 2. For approximately 3 hours, these Chinese and Mexican health experts discussed 5 areas of attack against COVID-19:
Hospital preparation
Virus testing
Protection of health workers and patients
Evaluation and isolation of patients
Treatment of patients
Experts from Zhejiang province, who attended cases in Wuhan, also spoke about traditional Chinese medicine, such as the use of medicinal plants to alleviate the symptoms of COVID-19.
"The call for Mexican doctors was made through TecSalud.  We received support from the Chinese government and Alibaba for making the connection through Innovation HUB Tec-China," she added.
This videoconference was recorded in order to share any valuable information that arose during the expert discussion with hospitals and the media from both countries.
A COLLABORATIVE PARTNERSHIP
"Innovation HUB Tec-China has always played a very active role in all areas to do with technology transfer and innovation, and the Tec has been working very closely with our office there.
"These are some of the actions that the Chinese government has promised to support us with as partners, to provide us with this training and experience so that we can share it with Mexican doctors," said Mora.
Innovation HUB Tec-China emerged from the partnership between Tec de Monterrey, the Mexico-China Center and the Jianggan district government, of the city of Hangzhou, which is in the province of Zhejiang.
This forms part of the Tec's strategy to forge connections with successful innovation ecosystems across the world, such as China, which has turned science and technology into the catalysts of its economy.
The full conference is also available on Innovation HUB Tec-China's Facebook page, on its YouTube channel, and via this Google Drive link.
IF YOU HAVE ANY QUESTIONS ABOUT COVID-19
If you have any doubts or you would like more information about the coronavirus, please contact the TecSalud Epidemiological Surveillance Unit:
Email: covid19@tecsalud.mx
WhatsApp: 81.8888.0775
Photos: Facebook / Innovation HUB Tec-China.
ALSO READ:
Seleccionar notas relacionadas automáticamente
0