The company made a mark in the Heineken Green Challenge, a contest for sustainable companies at the 2019 INCmty entrepreneurship festival
This Mexican startup offers the opportunity to plant vegetables not in a field, but in a healthy enclosed space in the city, as well as harvesting up to 100 times more than normal.
Juan Succar and Jorge Lizardi, graduates of the León campus of Tec de Monterrey, created the company Verde Compacto (Compact Green), which follows the new global trend of vertical urban agriculture.
This type of agriculture is ideal for supermarkets, restaurants, hotels, and real estate developments.
Verde Compacto gained recognition by winning third place in the Heineken Green Challenge at INCmty. According to the Spanish edition of Entrepreneur, it's one of the ventures to follow in 2020.
Video of Verde Compacto containers for urban agriculture. Courtesy of Verde Compacto
MEXICAN TECHNOLOGY FOR A GLOBAL TREND 
The trend of urban agriculture (in cities) is growing worldwide and already accounts for 15 percent of all agriculture, according to UN data.
The FAO itself (the UN Food and Agriculture Organization) urges this alternative, although there are still not many options in Mexico.
Verde Compacto maintain that they are pioneers in Latin America. Unlike other similar foreign companies, they are the first to use exclusively Mexican technology.
"This issue is very important for Mexico. It's not just a whim. It's about being part of a global trend that's necessary for the planet, " says Jorge.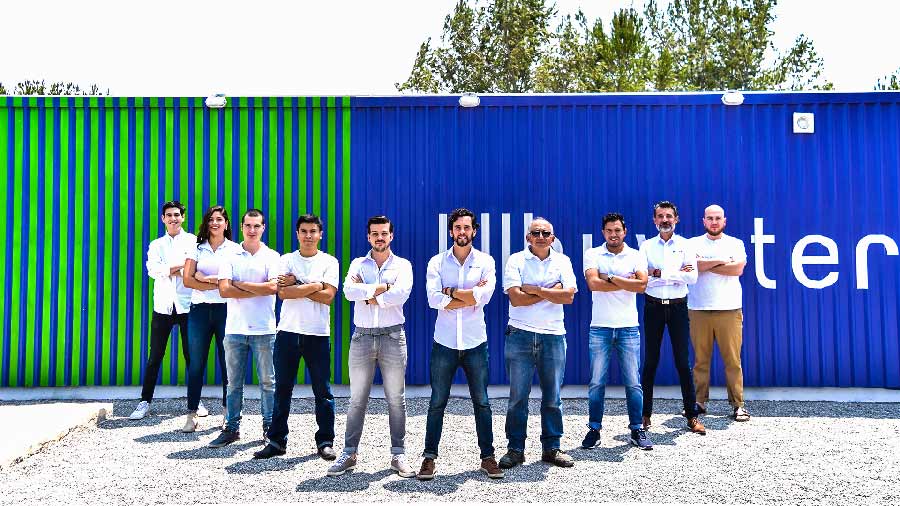 PLANTING IN ENCLOSED SPACES
The trend of urban agriculture goes hand in hand with vertical agriculture, which maximizes available space by planting in enclosed spaces at different heights.
Verde Compacto launched an intelligent vegetable growing system called Huvster for this, in a recycled trailer container.
They say that the system has the capacity to grow up to 200 times more vegetables per square meter, besides needing much less water.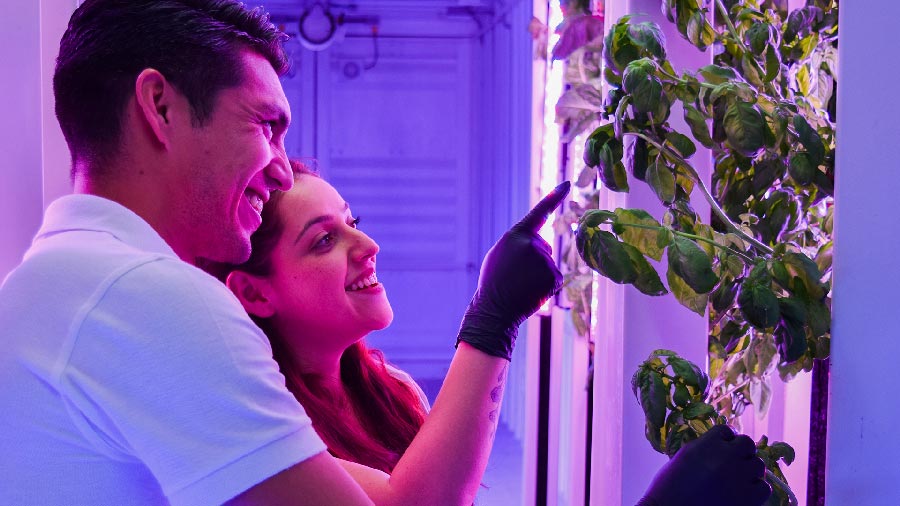 FULLY AUTOMATED
The container provides a circulating water system and uses LED lights in the germinating zone, simulating the conditions needed for the seeds to grow.
Plants are placed in vertical towers where they receive drip irrigation and grow until they are harvested.
"There are sensors that measure carbon dioxide, humidity and temperature levels," says Juan.
In addition, the blue and red light inside the Huvster simulates sunlight, allowing the plants to photosynthesize.
FEATURES
According to its founders, this system also has these other advantages:
An intelligent system for measuring and controlling temperature, humidity, irrigation and other aspects of vegetable cultivation by using hydroponics (agriculture without soil).
Savings of 90 percent for water and 80 percent for fertilizers compared to traditional method.
It measures and regulates plant nutrition levels, so that they grow at the same rate.
It reduces risks of pests or blight. 
It can produce, for example, 730 lettuces per month on average, or 20 kilos of oregano, coriander and other herbs monthly, and about 30 to 35 kilos of vegetables.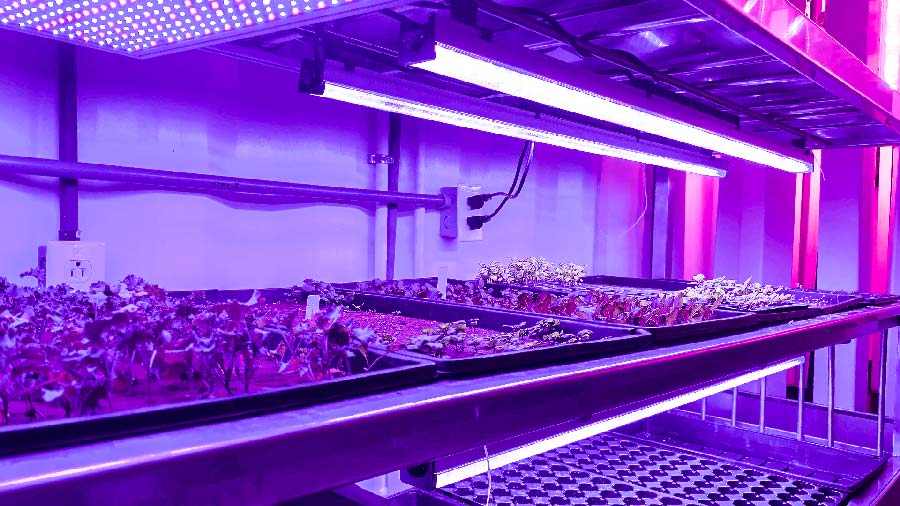 "This system could be installed in places such as shopping centers, restaurants, and hotels," says Juan.
If installed near consumers, it may also impact agrobusiness in several ways, such as by avoiding distribution costs.
Furthermore, vegetables can be harvested at any time of the year.

.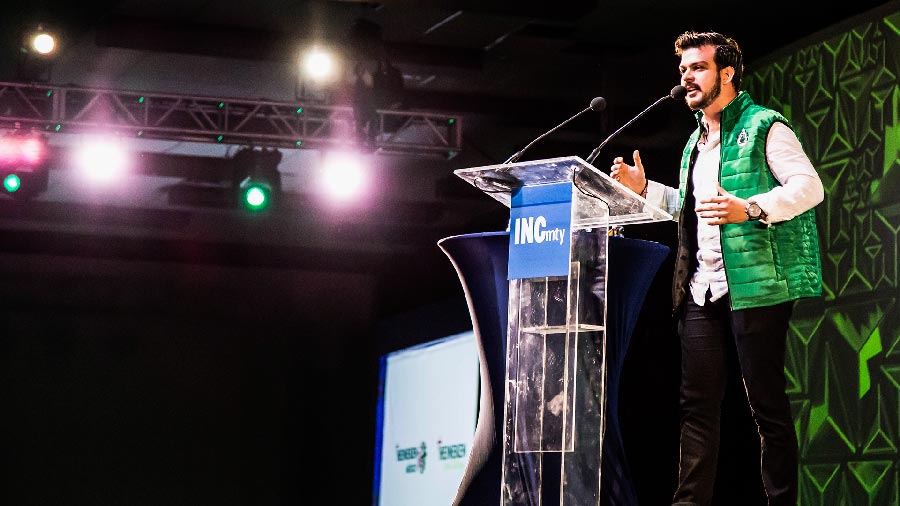 FROM FERTILIZERS TO AGRICULTURAL TECHNOLOGY
Juan is a mechatronics engineer and Jorge is an industrial engineer. In addition to being cousins, they've long shared an interest in proposing solutions in the field of agriculture.
Their first company sold organic fertilizers based on earthworm humus which led to an interest in further agricultural innovations. 
The project was incubated at the Cien Technology Park, a center specializing in project development on the Tec's León Campus.
"We also approached the Tec, who helped us by giving us the tools to start up through their networking connections," Jorge recalled.
FOOD FOR ALL
Jorge oversees operations and Juan is executive director, but there are already 12 people on the team full time.
"There are other companies that have imported technologies from abroad, but we're the first in Mexico. We're cheaper providers and employ Mexican talent," said Jorge.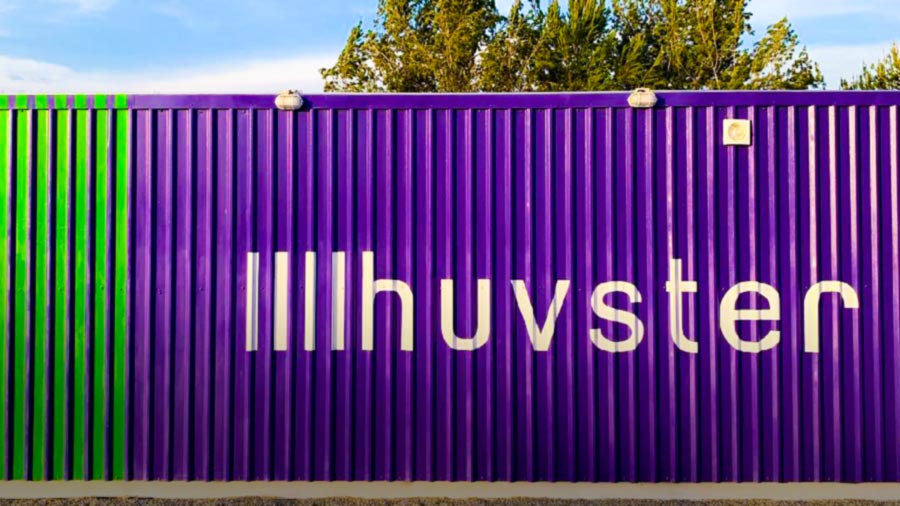 Although pursuing this dream has not been easy, these young men have imagined a better future for the planet.
*We hope to achieve food security for the planet through different practices and the assistance of technology *, says Jorge.
Their next step is to take part in different competitions, continue developing products, and consolidating their position to enter markets in Latin America, the United States, and Asia.
THEY CAUSED A STIR AT INCmty
Verde Compacto became one of the leading startups at INCmty, the Tec de Monterrey entrepreneurship festival.
Their venture was took part in the Heineken Green Challenge, an initiative that recognizes companies solving problems through innovation in Mexico.
Verde Compacto won third place in the 2019 contest.
YOU'LL ALSO WANT TO READ:
Seleccionar notas relacionadas automáticamente
1