David Meltzer shares tips for making successful decisions in business, as well as in our careers and personal lives.


Speaker and entrepreneur David Meltzer shared tips for making successful personal and business decisions.
Meltzer is the co-founder of Sports1Marketing, a global entertainment agency, and was one of the speakers at the INCmty 2020 entrepreneurship festival.
During his virtual talk, Meltzer shared advice from his experience and personal life for making successful decisions.
"The ideas that I share are ways of making good decisions. It's very important not only in life, but also in business," said Meltzer.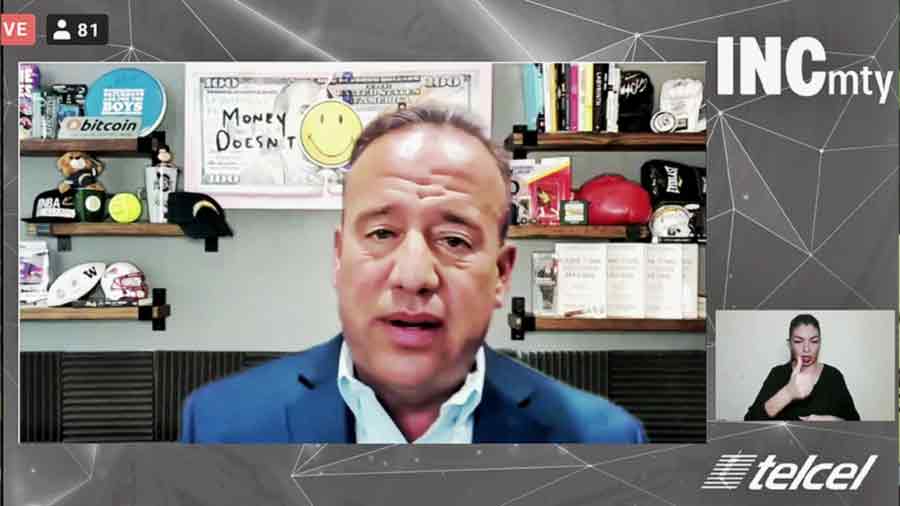 Use these 4 values as a guide
David mentions that there are four values which can help people to make better decisions: gratitude, empathy and forgiveness, responsibility, and effective communication.
"Gratitude is the only thing that can provide you with perspective. It shows you the best route to your destination, and as a result of that you can learn to love what you do," he said.
He also confirmed that a grateful company will not only be in a good situation right now but will also have a bright future.
The second value is that of empathy and forgiveness, which the expert says are important so as to allow you to make mistakes as an entrepreneur or innovator, and to be able to forgive yourself and others.
"If you cannot forgive yourself, you cannot forgive others. You can't share something that you don't have," Meltzer said.
The third value that the expert shared is responsibility. However, he mentioned that it is not just a case of only accepting what happens but also taking control of your own life.
"It's about asking yourself what you did to cause a problem for yourself and what you should learn from that. Always learn lessons from the things that enter your life," added Meltzer.
The fourth value is that of effective communication, which Meltzer divides in two different ways.
One is "upwards": what inspires you, it could be God, Jesus, or some other belief and the other way is "towards others", how you empower and inspire other people, he said.
Make decisions using these 5 criteria
Meltzer mentioned five criteria for making successful decisions in both business and personal situations:
- Credibility
According to Meltzer, credibility is one of the most important criteria, as it determines whether or not people are able to trust you.
"People focus on finding out the truth of what you are saying. It is the most important part of making effective decisions.
"First, you have to believe in yourself, in what you say, and in what you practice, before other people can begin to believe as well, especially in times of change like the one we're living through right now," said Meltzer.
- Emotional attachment
David said that you have to understand the emotional reasons why your clients, or potential clients, are interested in your service, product, or business.
"We need to find that emotional connection so that we can facilitate the development of credibility," the speaker said.
- Quantify people's reasons for purchasing something
Meltzer mentioned that it is also important to know the reasons why people pay for a service or a purchase a product.
"People usually do this by thinking about money. We live in a world where people have expenses: mortgages, vacations, and other things.
"People make the decision to give you their money hoping to earn more profit than the value of their initial investment," he said.
However, he pointed out that it is important to know the exact reasons, to ask potential customers for those reasons, and not to assume that you already know these reasons.
- Impact
Another tip is to think about the impact that your business will have on both the lives of customers and employees, as well as on the entire planet.
"Saving the planet, saving sources of water, supporting sustainability. We have to quantify the impact that we will have," said Meltzer.
- Understand your abilities
"We need to understand our abilities," says the expert. 
These abilities, he mentions, are a set of 3 things: the skills you have, the knowledge you have, and people that you can trust.
"You have to have an inventory of the skills that you have. Not only that, but you have to see how they align with the decision you are trying to make," he said.
Similarly, he mentioned that you must understand the things that you do know and those you don't know.
To this end, Meltzer invites you to humbly accept when you don't know something and then seek help.
In the same way, he mentioned that it is important to know who to ask for help, to surround yourself with people who can help you or who can send you to someone else.
Money doesn't buy happiness
Alongside the advice he gave during the virtual talk, Meltzer also discussed the personal situations that taught him about some of the advice he shared.
"When I was a child, we didn't have any money. I had only one goal: to buy a house for my mother. I thought that money bought happiness and I was going to buy it for my mother and I," he said.
Even though he tried his hand at college football, started a medicine degree, and finished a law degree, Meltzer says he went through some difficult times.
"I was a millionaire. I bought a house for mom. I had a mansion at only 24 years old. I was a hero to my family and friends, and at work.
"But when I came home and went to bed, I realized I wasn't happy," Meltzer recalled.
David continued his professional career by working for Leigh Steinberg's sports agency, one of the best-known agencies in the world.
After experiencing difficult times where he felt stressed and sad, he decided that he would begin to live according to a different mentality: making his own decisions and living by his own values.
He is currently a speaker, entrepreneur, and the co-founder of the Sports1Marketing marketing agency.
He is also known for his business and philanthropic work around the world.
Meltzer mentions during an interview that now his search for both success and money is not like that when he wanted to buy happiness.
Now he says that what he wants to do is to show others the way and give people the tools to be able to achieve their goals, and enjoy the process of doing so.
"Money does not buy happiness, but it does allow you to buy things. If you buy the right things, you can be happy," concluded Meltzer.
8th INCmty festival
INCmty's guiding concept is 'Digital inclusion & sustainable futures', with the aim of reducing the digital divide and promoting social development towards a sustainable future.
"In the current climate, the entrepreneurial ecosystem demands spaces where innovative minds can be concentrated, and where business proposals contribute something more to society and to the planet," underlined Josué Delgado, Director of INCmty.
During the 5 days of the conference, more than 200 online activities were carried out, including conferences, workshops, pitches, meetups, and networking experiences.
YOU'LL DEFINITELY WANT TO READ:
Seleccionar notas relacionadas automáticamente
1