Universities and companies including Tec de Monterrey, Yale, Google, and Intel have opened up a free catalog of more than 3,000 courses with certification during the COVID-19 emergency
Now that you're spending more time at home due to quarantine, the Tec and other universities and companies are offering more than 3,600 free courses complete with certification on Coursera.
This initiative, called Coursera for Campus, seeks to encourage online training during the COVID-19 emergency, said Jorge Rodríguez Tort, leader of Alternative Credentials at the Tec.
"This initiative allows students and members of universities such as the Tec to have access to more than 3,600 courses that would normally have a cost, but at present include free certification," he explained.
This way, students, graduates, teachers, and Tec collaborators, as well as TecSalud staff, can take these Massive Open Online Courses (MOOCs) and obtain free certification.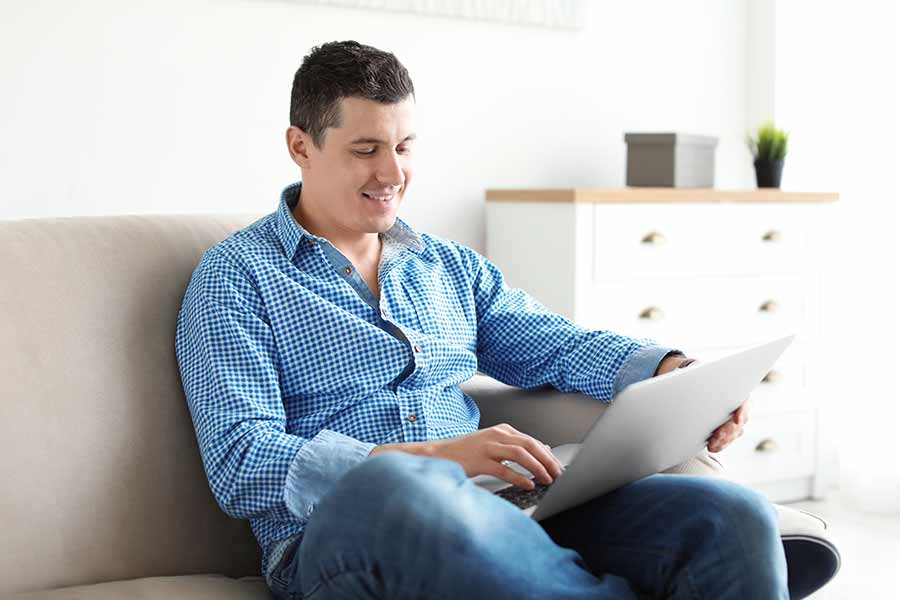 DECIDE NOW! FOR A LIMITED TIME ONLY
As Coursera for Campus is an option for support during the quarantine caused by COVID-19, there's a deadline for enrolling on and completing the courses.
"You have until July 31 to enroll on the courses, and until September 30 to complete them and receive your free certificate. If you aren't able to complete them by that date, you'll have to pay for the certificate," said Rodríguez.
He added that you can find the full course catalog by accessing the site that was created for La Tríada courses (a partnership between the Tec, the Pontifical Catholic University of Chile, and the University of Los Andes of Colombia).
"La Tríada courses are MOOCs that you can take all year round, but all the others have a deadline due to the quarantine," he clarified.
This means that in addition to the La Tríada courses that were already offered on Coursera for free for one year to the Tec community, there are now free MOOCs from other institutions for a limited time during this emergency.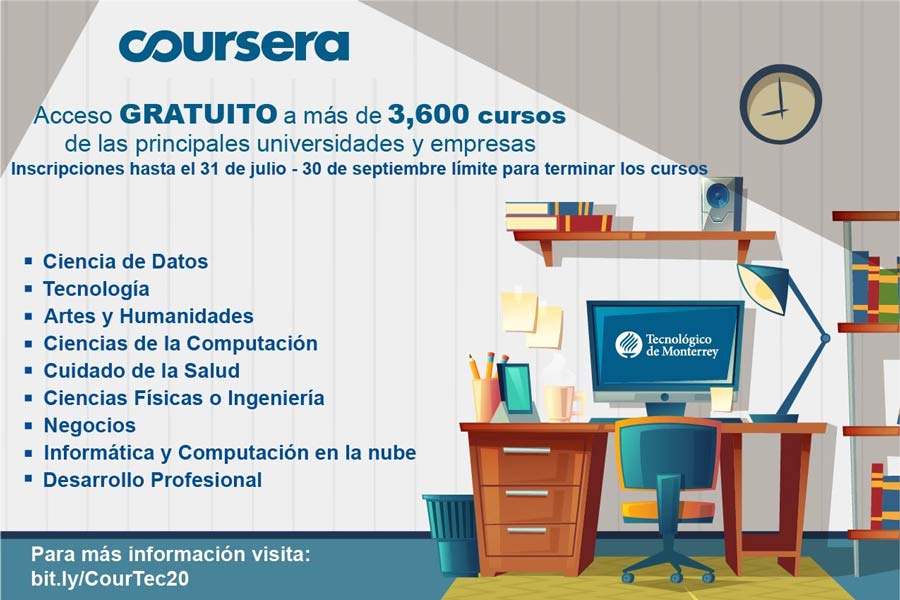 OPTIONS TO CHOOSE FROM
The catalog of MOOCs available covers 9 areas of knowledge, which are:
Data Science
Computer Science
Business
Technology
Health Care
Information Technology and Cloud Computing
Arts and Humanities
Physical Sciences and Engineering
Professional Development
Besides the Tec, other Coursera partners have opened up their courses, such as the University of London, Yale University, the Hong Kong University of Science and Technology, HEC Paris, Google, Intel, and IBM.
"More than 168 universities and more than 30 companies have opened up their catalogs for this exercise. Our students have access to courses from the best universities and companies in the world during quarantine.
"The courses you can take and complete over this period are those you can receive certification for," said Rodríguez.
Courses take 20 to 40 hours to complete and specializations consist of three MOOCs.
What's more, as they are taught by institutions from around the world, there are courses in several languages.

 
THE ENROLMENT PROCESS
In order to take one of the courses offered by Coursera for Campus, you need to have an email address ending in @itesm.mx, @tec.mx, @tecsalud.mx, or @exatec.tec.mx* and follow these instructions:
Enter via tec.mx/latriada (It doesn't work if you enter Coursera directly).
Click the Join for Free button.
If you're a Tec student, graduate, or collaborator, click on the "Log in with Tecnológico de Monterrey" button.
Enter with your Tec email address (for Tec students, employees, or graduates).
As applicable, choose whether you're new to Coursera or you're already a user with this account.
Check the Catalog option to find out what courses are available. Click on the "See All" tab under each category to be able to explore the courses.
* Note: free certification doesn't apply to Coursera accounts registered to non-Tec email addresses.
*If you're a graduate, you can register here to obtain your Tec graduate email account.
HOW CAN I SEE THE 3,600 COURSES?
Rodríguez added that only the most relevant courses under each heading will appear in the catalog section, but you can use the search box to find more courses by using keywords.
For instance, 314 results appear for the word "coaching" and you can filter by language, level, skills, university, and course type.
"Now's the moment to take advantage of the time we have, and I think we could all use it to take courses," said Rodríguez.
WHAT IF MY UNIVERSITY ISN'T A COURSERA PARTNER?
If the university you're studying at isn't a Coursera partner, you can also gain access to free certification.
In order to do so, the heads of university institutions can request the benefits of Coursera for their students during quarantine through this site.
If you're a student, you can get in touch with the people who run your school to suggest they make this request, as the agreements are made at university level.
If you have any other questions or difficulties, you can send an email to mooc@servicios.itesm.mx.
YOU'LL ALSO WANT TO READ:
Seleccionar notas relacionadas automáticamente
1