Tec de Monterrey faculty members attended the seventh annual conference virtually to reflect on progress and work together.
Photographs: Abigail Guzmán
Tec de Monterrey faculty members have gathered virtually at the 2020 National Teachers' Conference, where they reflected on challenges in education, reviewed the progress of the Tec21 Educational Model, and worked collaboratively.
Around 6,500 faculty members participated in the activities at the seventh annual conference beginning on Monday, July 6 and ending on Friday, July 10.
CONECTA offers you 10 reflections from the event: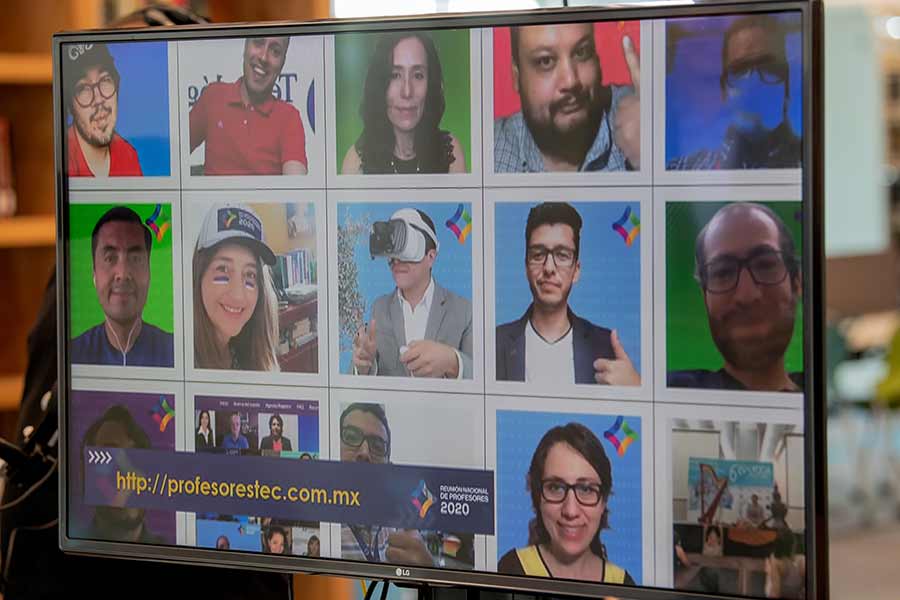 1. A CHALLENGING YEAR
In his first speech at the conference, David Garza, Rector and Executive President of Tec de Monterrey, invited faculty members to consider the role they play in society and as part of the university.
"Universities are sources of inspiration, and we must be amplifiers of knowledge, of attitudes, of values.
"We must help society to change positively in the face of the adversity that it is going through," he said.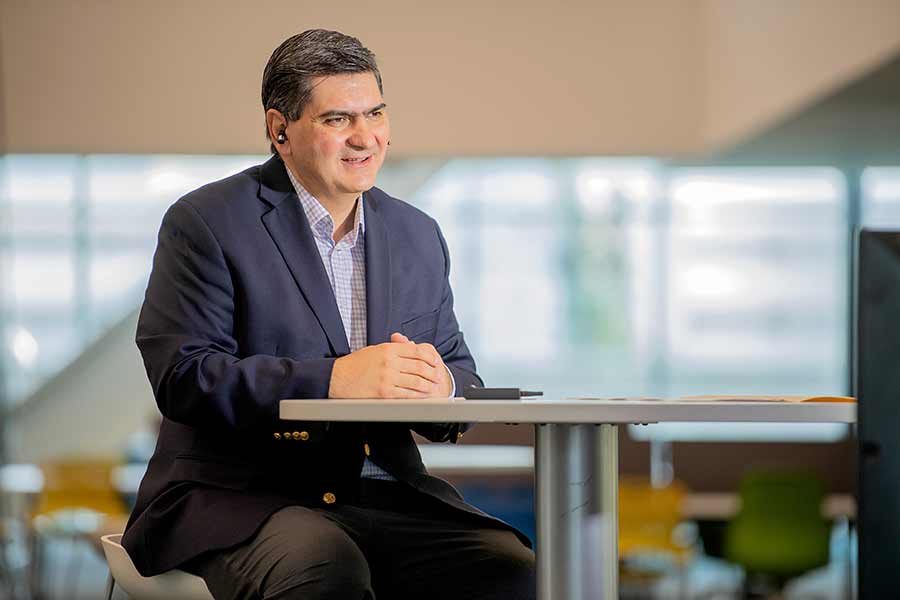 He also shared achievements from the past year such as improvements in international rankings, and the interest of foreign universities in learning how the Tec21 Model works.
He also pointed out that the experience of using a digital model, as a result of the COVID-19 pandemic, was a big challenge: more than half a million classes were taught remotely by 10,000 undergraduate and PrepaTec faculty members.
"Through your inventiveness and creativity, you have adapted very well to this environment," he acknowledged.
2. POSITIVE PROGRESS IN THE DIGITAL MODEL
In his talk with faculty, Juan Pablo Murra, Rector of Undergraduate and Postgraduate Studies, spoke of the successes achieved when moving to the digital model, which not only involved classes, but also: LiFE@Home, Boost your Skills and Taking Care of Your Mind (Cuida Tu Mente).
"The speed at which we moved, the scale at which we moved, and the quality of the Flexible Digital Model have all been fundamental," he said.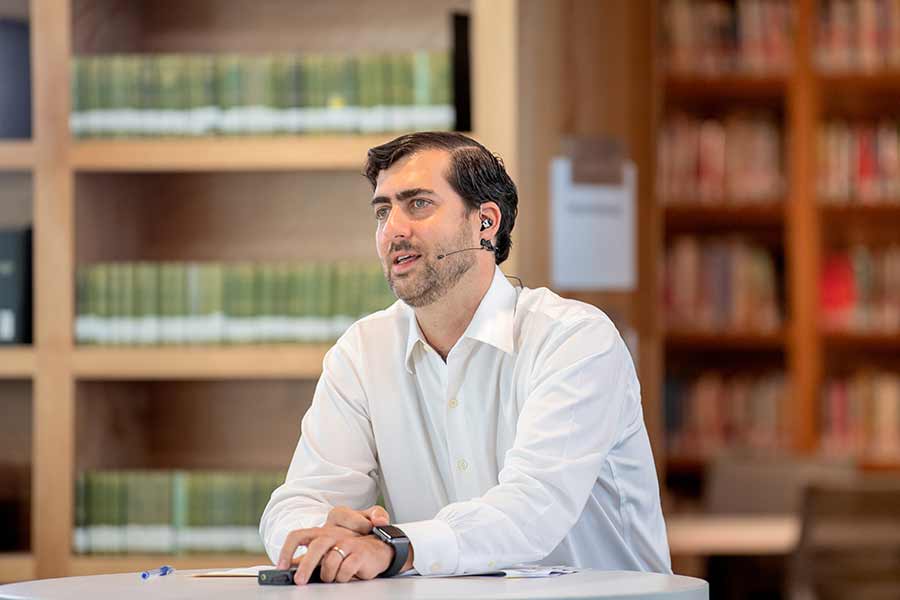 3. RE-THINKING TEACHING
Cristóbal Cobo, a researcher specializing in education and technology, was the guest speaker on the first day of activities at the conference.
In his talk, he stated that emergency remote education, in this case due to COVID-19, has revealed new challenges about educating.
Cobo said that although the use of digital technology is efficient for the transmission of information and data, knowledge development involves the use of different techniques.
Among his recommendations to teachers he particularly highlighted: supporting students to develop metacognitive skills, reducing the number of synchronous classes, and thinking of other technologies.
4. HEROES OF THE PANDEMIC
David Garza, in another of his talks, pointed out that what happened in 2020 will be seen in the future as something extraordinary.
"The way we had to drastically change the way we provide education is something we will all remember," he said.
For him, this pandemic has revealed the true heroes around the world: healthcare workers and teachers.
"You gave everything of yourselves to be able to continue your classes at a distance: you trained yourselves so as not to forego any classes, to motivate your students, to bond with them, and continued practicing your vocation," he acknowledged.
5. HOW IS THE TEC21 MODEL PROGRESSING?
Román Martínez, Vice-Rector of Educational Transformation, provided an overview a year after the entry of the first group of Tec21 students.
He reported that more than 12,000 students were involved, and more than 3,000 faculty members had participated in training.
The vice-rector pointed out that indicators show satisfactory progress across the Model: student surveys (ECOAs) with favorable opinions, the student retention rate, and the student attraction rate for 2020 entrants.
He summarized that Tec21 has mainly involved the following transformations for teachers:
Greater collaborative and interdisciplinary work (undertaken through Academic Communities and through the delivery of training blocks).
Having to make adjustments to their content (leaving in the most important concepts and motivating students to learn in different ways).
Becoming challenge designers: they have contacted external training partners (businesses, organizations) so that students can learn in a real-life environment.
"What we are doing through this educational model is training young people with the key skills necessary for their future," he stressed.
6. STUDENT EXPERIENCES OF TEC21
In the panel discussion entitled 'Student Voices', young people shared their experiences of learning using the Tec21 Model.
A welcoming approach, openness, and commitment to supporting them, are behaviors that students recognized in their teachers.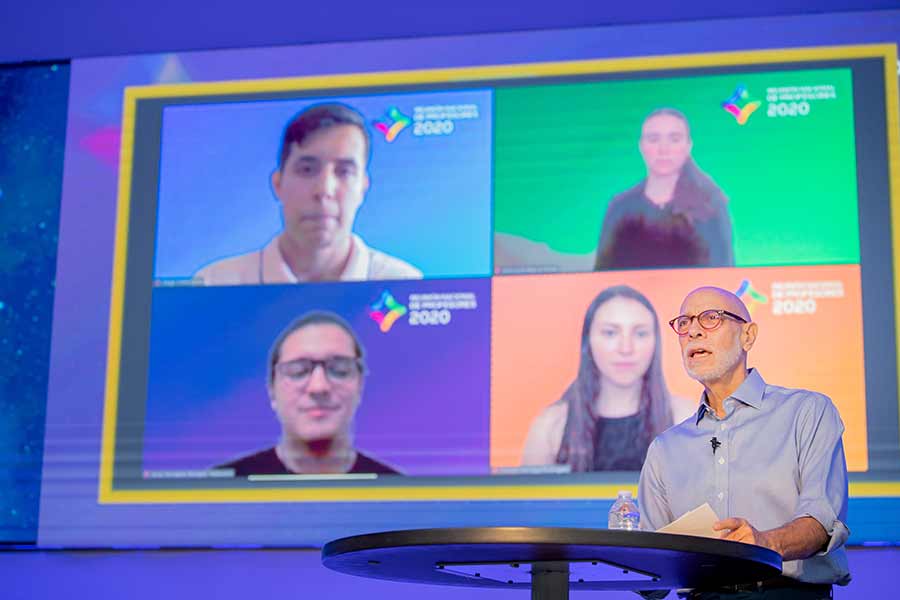 "What I liked most about my teachers is that before each class they asked me 'How are you? How is your day going?', and that made me feel that we are all in the same boat," shared Jesús Fernando Bórquez.
"In addition to being the pillars of our academic experience, they are a fundamental part of our development as human beings," he added.
7. WHAT THE FACULTY LEARNED
Working as a team, communicating better, and adapting content (even knowing which content to leave out) have all been part of the learning curve for faculty in the Tec21 Educational Model.
"I've learned to adjust the amount of time and the stimuli for the students; before I did it in a mechanical way and now I am more aware of them," acknowledged Verónica Hernández from the School of Social Sciences and Government.
"It has allowed us to think in terms of projects rather than content," said José Luis Rodríguez from the School of Architecture, Art, and Design.
This collaborative project was presented by the Music Production faculty as an example of distance collaboration and as part of the conference's social activities.
8. THE START OF THE 2020-2021 ACADEMIC YEAR
The rector and executive president of the Tec pointed out that one of the main challenges when starting the new academic year next August would be in the reopening of the campuses, which will take place in stages.
He reiterated that the August semester will start with the HyFlex + Tec hybrid model.
"The key to this new academic year will be preparation and flexibility. We are living in an environment which we will have to adapt to as the situation develops," he reiterated to teachers.
In terms of the Tec21 Model, the vice-rector for Educational Transformation shared that continuing the progress made by the first generation of this model will involve evaluating the exploration stage and the beginning of new training units that will address career competencies.
9. RESEARCH: ESSENTIAL IN THE FIELD OF EDUCATION
The Rector of TecSalud, Guillermo Torre Amione's key statement was that, "Research is essential in education, since it provides us with strategies for innovation and entrepreneurship."
He also shared 3 treatment protocols that TecSalud is leading to help combat COVID-19 in Mexico with the faculty members:
The use of plasma for critically ill patients; the development of a strategy to decrease the risk of contagion through nanoparticle nano-sponges; and the exploration of drugs that have cardioprotective and anti-inflammatory effects on patients with COVID.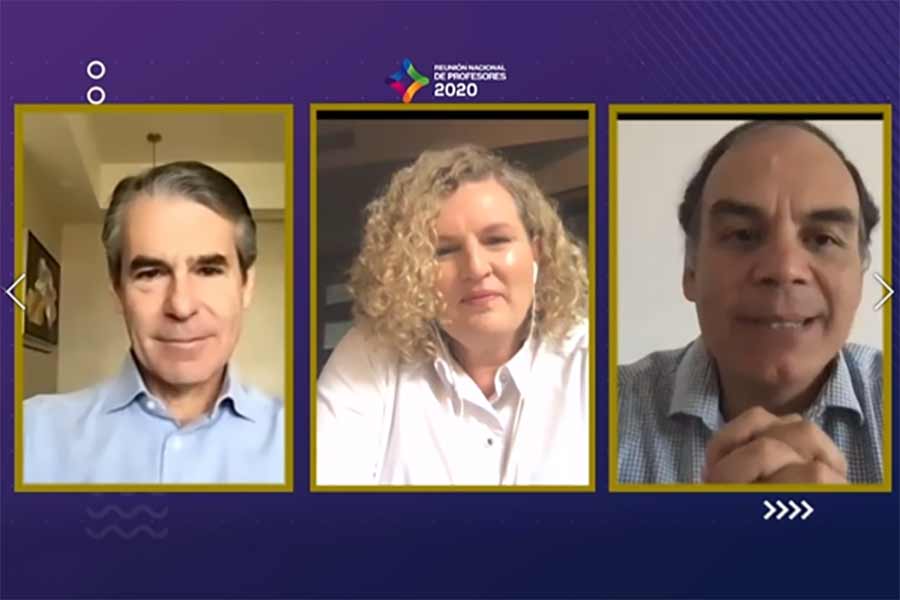 Inés Sánez, vice president of Inclusion, Social Impact, and Sustainability, also participated, and invited faculty to carry out research based on the sustainable development goals developed by the UN.
"This frame of reference should guide our development and will allow us to be included in the global transformation agenda, because the goals deal with urgent and important problems," she expressed.
10. AN INSPIRATION EXAMPLE
Tec de Monterrey and PrepaTec faculty members received National Inspiring Teacher Awards thanks to their outstanding work throughout 2019.
At undergraduate level, they were received by Eduardo Arrambide, a multi-campus professor at both Saltillo and Monterrey campuses; Ján Rehák from the Querétaro campus; and Luz María Martínez from the Monterrey campus.
In addition, Nancy Olvera from PrepaTec Cumbres and Octavio Muñoz from PrepaTec at the State of Mexico campus were given the award for their work at high school level.
YOU'LL ALSO WANT TO READ:
Seleccionar notas relacionadas automáticamente
1