The use of augmented reality in the operating room allows for evaluation to take place without creating an incision in the patient's body.

David Arturo Rodríguez Sánchez, a Tec de Monterrey graduate, is developing an augmented reality project that seeks to reduce risks to patients during pelvic surgery. 
In conjunction with a research group, he is working on a monitoring system which uses augmented reality to reduce possible risks during hip surgeries.
The group is made up of consultants, specialist doctors, traumatologists, and surgeons, who intend to perform the first surgery using the new model within the next three years. 
"During the development of this project, we have encountered different challenges, mainly to do with the augmented reality programming, as it is a technology with a high development cost," said David Arturo.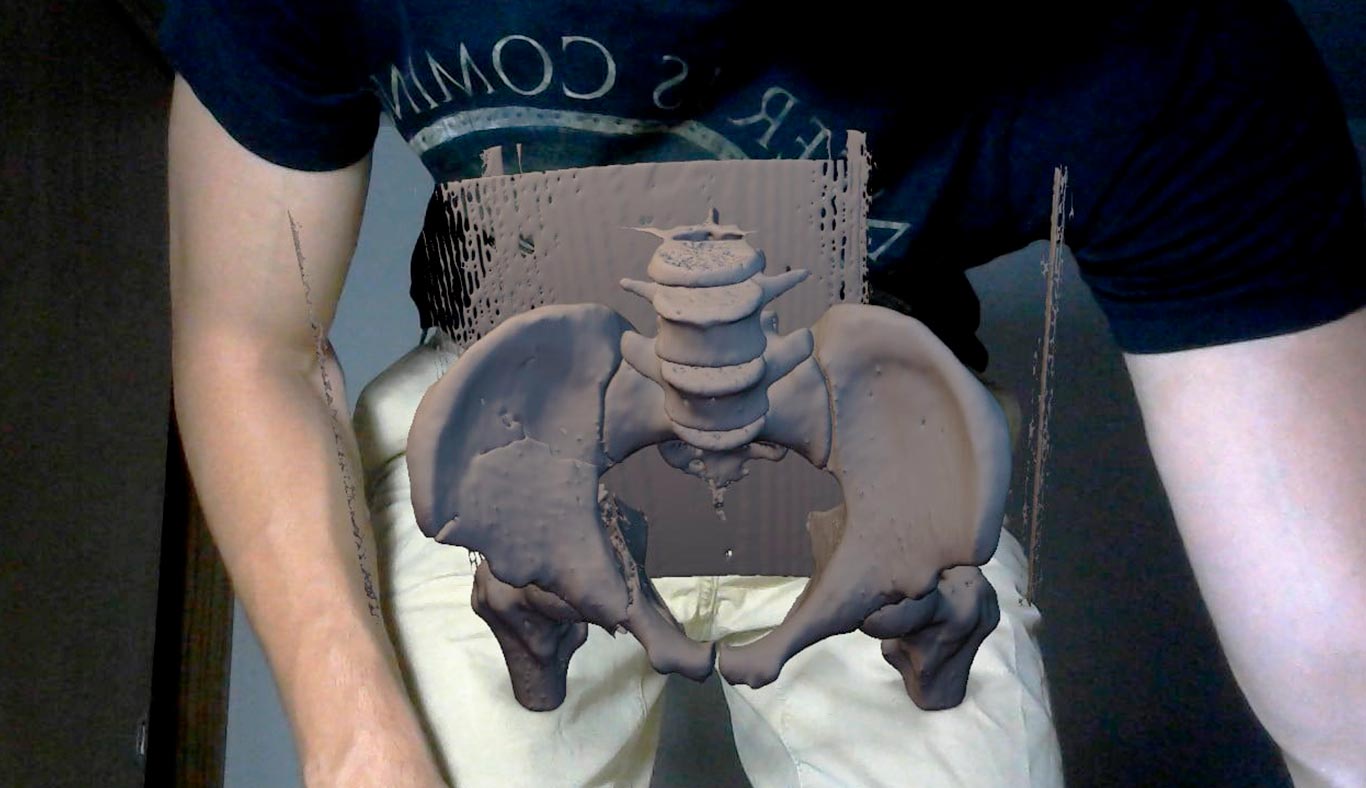 The use of augmented reality in the operating room allows an evaluation to be carried out without having to make an incision in the body. This is possible thanks to a monitor sending real time data about what is happening inside the patient.
The monitor is important because doctors need to have their eyes free at all times during surgery, so other technologies such as virtual reality glasses are not feasible.
Likewise, the device will be able to show the exact position of the bones to the millimeter and the tools used during the surgical procedure through different sensors.
Through accelerometers or Kinect technology, surgeons will be able to undertake a 1:1 timescale scan to be able to generate an accurate report of the patient's condition, have greater precision, and reduce the possible margin of error. 
It is important to note that the development of this project is focused on pelvic or hip surgeries, since it is a complex procedure involving different small bones such as the iliopubic branches.
It has been proposed that, in the future, this model will have the ability to suggest an optimal location for incisions and introducing the necessary tools.
David mentioned to CONECTA that this computer-assisted surgery model is innovative as there is no current model of this type in Mexico, and the most similar developments are focused on knee surgeries.
What sparked his passion
He graduated in Mechatronic Engineering at the Aguascalientes campus and completed his master's degree at the Monterrey campus in science and manufacturing, with a medical focus.
He considers himself passionate about research. During his master's degree, he carried out mechanical analysis for prosthetic hands, and later began a doctorate in engineering sciences.
At the start of his doctorate, David decided to be the first in Mexico to develop a Computer Assisted Surgery (CAS) System focused on the pelvis.
"At the beginning of the doctorate, it seemed like an interesting project but, now that I see it fully, it is a fascinating and far-reaching project because of the impact it will have," said Rodríguez.
During his doctorate, his interest in research took him to the United Kingdom, where he discovered that augmented reality would become his true passion, he said. 
Jorge Alberto Pérez, Director of the School of Engineering and Sciences, mentioned that the inclusion of technology to achieve greater wellbeing for human beings is on the rise, and proof of that can be seen in the work of Tec graduates.
"It's impressive to see things that we believed unattainable as children becoming a reality today," said director Jorge Alberto.
Finally, David suggests that young people should be more curious, as doing research and proposing new challenges can lead them to create great things. 
"Doing everything with passion and determination is the key for today's youth to succeed in a globalized and constantly evolving world," said David.
YOU'LL DEFINITELY WANT TO READ:
Seleccionar notas relacionadas automáticamente
1