UAM – Banco Santander Call for Scholarship Applications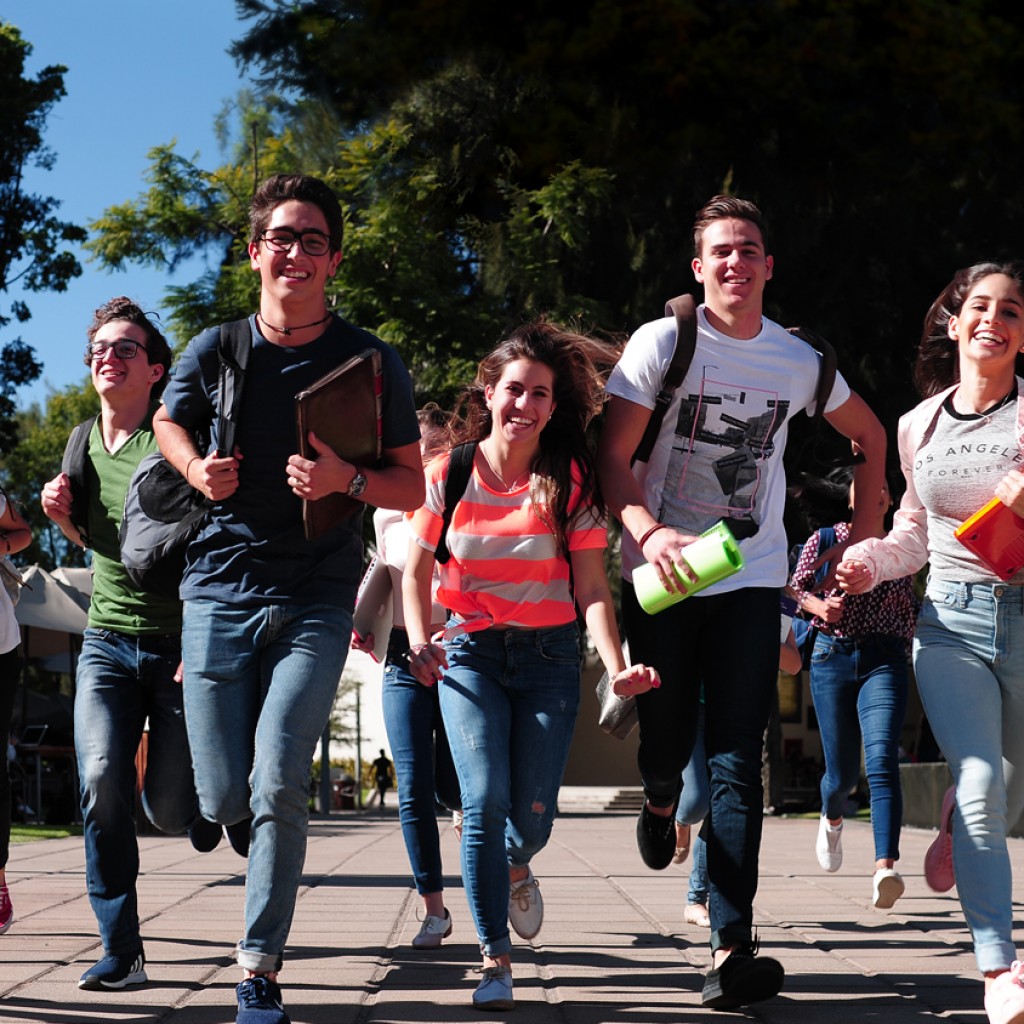 Santander and Universidad Autónoma de Madrid (UAM)
In order to offer academically outstanding Tecnológico de Monterrey students a multicultural environment in renowned institutions of national and international prestige, which will serve to enhance their global outlook and personal development, the Office of the Internationalization Vice Rector of Instituto Tecnológico y de Estudios Superiores de Monterrey, partnering with Santander and Universidad Autónoma de Madrid (UAM), has launched a call for applications to a program that awards a total of six scholarships for Tecnológico de Monterrey undergraduate and graduate students.
Download criteria >
Monthly stipend of $900 EUR for five months to cover accommodation and living expenses during the program.
Help with the cost of the airfare up to $1000 EUR (2*)
Exemption from academic and administrative fees at UAM (3*)
Health and accident insurance in Spain (4*)
*NOTA IMPORTANTE: Estos requisitos deberán ser cumplidos al pie de la letra SIN EXCEPCIÓN. Sin alguno de estos, el alumno no será considerado para participar y su expediente será descartado.
Para alumnos de profesional*:
Tener nacionalidad mexicana y contar con pasaporte vigente para el año 2020 (5*).
Estar inscrito en alguno de los campus del Tecnológico de Monterrey durante el semestre enero‐mayo 2019 y cumplir con los requisitos para cursar un semestre en el extranjero, establecidos en las Políticas y Normas de la Vicerrectoría de Internacionalización.
Ser alumno regular. Tener un promedio acumulado al último periodo completo mayor o igual a 90.
Tener acreditadas y aprobadas al menos 18 materias del plan al momento de aplicar y no ser candidato a graduación en el semestre enero-mayo 2020.
No haber cursado durante la carrera profesional algún periodo completo (verano, invierno o semestre) en el extranjero.
No estar condicionado académica o disciplinariamente.
Contar con beca socioeconómica del Tecnológico de Monterrey de al menos 50% o más.
Para alumnos de posgrado*:
Tener nacionalidad mexicana y contar con pasaporte vigente para el año 2020 (6*).
Estar inscrito en alguno de los campus del Tecnológico de Monterrey durante el semestre enero‐mayo 2019 y cumplir con los requisitos para cursar un semestre en el extranjero, establecidos en las Políticas y Normas de la Vicerrectoría de Internacionalización.
Ser alumno regular. Tener un promedio acumulado al último periodo completo mayor o igual a 90.
Haber aprobado al menos 4 materias de su plan de estudios al momento de aplicar y no ser candidato a graduación en el semestre enero-mayo 2020.
No estar condicionado académica o disciplinariamente.
Contar con beca socioeconómica de al menos 50% o más.
A nivel profesional aplica en todos los campus y abierto a todas las carreras. A nivel posgrado solo aplica para los programas de las Escuelas de Humanidades y Educación y de Ingeniería y Ciencias. Importante para los alumnos de posgrado: si eres de doctorado, solo puedes acreditar materias de maestría en la UAM, no se permiten cursar materias de doctorado.
El alumno deberá cubrir el monto de su vuelo, y al llegar a España tras firmar el contrato de becario, se le reembolsará el monto hasta el límite asignado. El alumno recibirá a su llegada al Centro de Estudios de América Latina (CEAL) un cheque con el importe de los dos primeros meses (manutención) y de la ayuda de viaje. Como becario del Programa de Intercambio UAM-Banco Santander debes abrir una cuenta bancaria en la sucursal del campus del Banco Santander. En esta cuenta bancaria recibirás el importe de tu beca, a excepción de las dos primeras mensualidades y la ayuda de viaje, que recibirás en un talón bancario nominativo.
El alumno pagará su colegiatura habitual en el Tecnológico de Monterrey, se respeta beca.
El seguro de gastos médicos que se otorga a los ganadores solo tiene cobertura en España. Sin embargo, esto no exime a los alumnos de contar con un seguro internacional según los lineamientos del Tecnológico de Monterrey y de la embajada de España en México.
El alumno se hará responsable de contar con su pasaporte vigente hasta el término del curso (junio 2020).
Consultar: http://www.uam.es/UAM/Grados/1234886330662.htm?language=es&nodepath=Oferta%20acad%C3%A9mica%202016/2017&pid=1234886330662
Es importante que en la medida de lo posible el Director de Carrera/Posgrado avale la lista de materias que se acreditarían en la UAM.
Para aplicar a esta beca es necesario que el expediente contenga los siguientes documentos:
Currículum Vitae actualizado. Estilo libre.
Carta motivo (máximo una cuartilla) que detalle:
a. Las razones y objetivos para participar en el programa. b. La necesidad económica, beca socioeconómica.
Comprobante del historial académico del alumno (Hoja FAM) del semestre en curso.
Lista de las materias (6*) (solamente se podrá seleccionar las indicadas como "SEMESTRE 2") que cursaría en la UAM en caso de resultar seleccionado y, anexar una breve justificación de por qué se eligió cada una. Además, se deberá incluir la lista de materias que acreditaría del plan de estudios del Tecnológico de Monterrey (7*).
Copia simple de pasaporte vigente.
Carta realizada y firmada por el alumno donde se mencione por qué no has participado en ningún programa académico. Estilo libre.
Carta de nominación del Tutor o Director del programa académico (Este requisito solo aplica para estudiantes de posgrado)
Todos estos documentos deberán integrarse en ese mismo orden, dentro de un solo archivo y en formato .pdf, mismo que no deberá exceder los 5 MB. El nombre del archivo debe de contener: Matrícula + Nombre + Apellido paterno + Campus (EJ: A0123456 José Martínez MTY)

Para cualquier comentario respecto a esta convocatoria, el interesado podrá enviar sus dudas al correo electrónico itesmvi@servicios.itesm.mx
Se le anunciara a los finalistas el siguiente paso que deberán seguir.
La selección final se realizara en conjunto con la Universidad Autónoma de Madrid.
P: Realicé la solicitud de aplicación en línea y subí mi expediente, ¿cómo puedo confirmar que lo recibieron?
R: Al pulsar el botón "Enviar" aparecerá unos momentos después un mensaje con la siguiente leyenda:
¡Gracias!

Tu solicitud ha sido recibida. ¡Mucho éxito! La lista de los 10 finalistas será publicada en este sitio a partir del día -----------.
Además, si eres uno de los finalistas, te estaremos contactando por correo electrónico.


Te recomendamos ser paciente y esperar a que se cargue tu expediente, no necesitas enviarnos correo electrónico para confirmar tu postulación, este mensaje la confirma.
P: Envié por error, más de una vez la solicitud de aplicación en línea, ¿cuál tomarán en cuenta?
R: Solo se tomará en cuenta la última solicitud que hayas enviado. Se ordenará por fecha/hora y se tomará en cuenta la más reciente antes del cierre.

P: ¿Cuándo anuncian a los finalistas?
R: Se tiene programado anunciar a los finalistas la primera semana de clases del semestre agosto-diciembre 2019.

P: ¿Puedo participar en otro programa internacional?
R: Sí, estas justo a tiempo para participar en la primera ronda. Te invitamos a revisar el calendario de la oferta de Programas Internacionales.

P: ¿Si me gradúo en el semestre Enero-Mayo 2020 ¿puedo aplicar?
R: No, solamente aplica para alumnos a graduarse en Diciembre 2020 en adelante.
P: En los requisitos, se solicitan 18 materias acreditadas, ¿también cuentan remediales?
R: No, deben de ser materias dentro del plan.
P: Solicitan en los requisitos tener 50% de beca, ¿puede ser cualquier beca?
R: Sí, puede ser cualquier beca, académica, deportiva, empresarial y puede ser el total de una beca crédito más beca académica (ej: 25% beca más 25% crédito).
P: ¿El pasaporte tiene que estar vigente?
R: Sí, es lo recomendable; en caso de que no esté vigente, agradeceremos nos envíes una carta donde te comprometes a renovarlo o bien informando que ya está en trámite.
P: Participan toda la oferta académica que se menciona en la página?
R: Si, participan todas las facultades y la Escuela Politécnica Superior. Tan solo hay que excluir a la CSEU La Salle.  P: Si obtengo la beca, ¿la puedo utilizar en cualquier semestre?
R: No, la beca solo aplica para ser utilizada en el semestre Enero-Mayo 2020.
P: ¿Cómo será el reembolso de la compra del vuelo?
R: Deberás comprar y cubrir el monto de tu vuelo, y al llegar a España tras firmar el contrato de becario, se te reembolsará el monto hasta el límite asignado. Se te brindará más información a tu llegada a la UAM.
IMPORTANTE
Para los alumnos de posgrado: Si eres de doctorado, solo puedes acreditar materias de maestría en la UAM, no se permiten cursar materias de doctorado.
Para mayor información escríbenos a: itesmvi@servicios.itesm.mx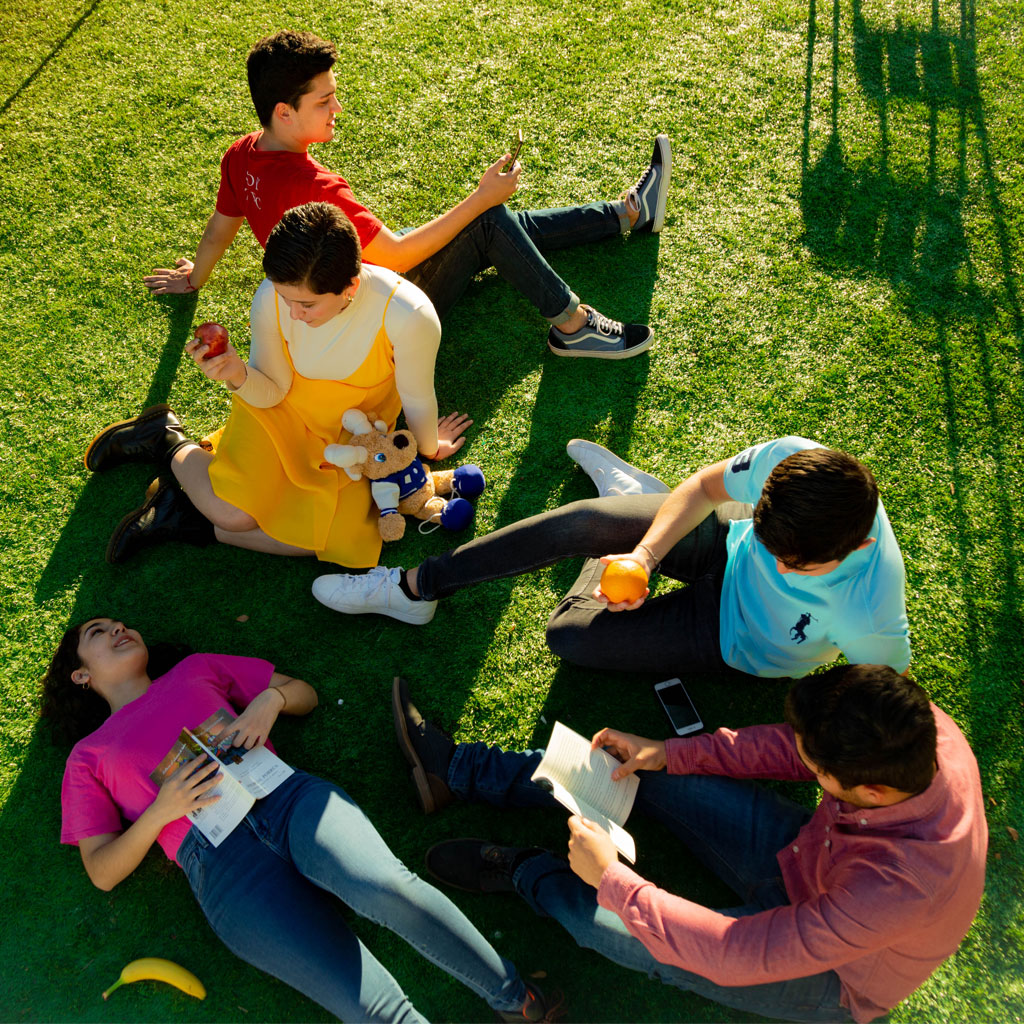 1. By María José Juárez Campus Querétaro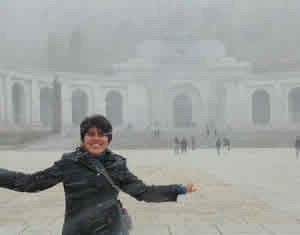 When I submitted my application for the scholarship, I truly did not have any idea of the implications of the stage of my life on which I was about to embark. The application process was very simple for all the corners of the world where it could take me: a statement of purpose, a résumé, copy of my passport, my transcript and a list of the classes I would like to take at UAM, that's all, just five documents in exchange for traveling over at least a third of the European continent, and even part of Africa and Asia.

Just about everything was new to me. I had never been alone for so long, I had never left the country, I had never been on a plane and all this happened in the blink of an eye. Those "never" became a reality. Those "never" drove me to discover myself and explore my limits.

On arriving in Madrid, without even having rented a flat to stay in, I embarked on the most incredible adventure of my -short- life. At Universidad Autónoma de Madrid, I was immersed in a university environment of free spirits and constant effort. I delved into studying anthropology, which forced me to question my cosmovision completely and that I ended up liking so much that I was afraid I was studying the wrong degree, but, of course, it's normal to have more questions than answers during a journey. This process of questioning is vital to define a path.

Studying in Spain significantly fomented by undergraduate degree, since one of my objectives during my stay was to know, primarily, the country's reality –which I explored through its people and expressions– and, specifically, I was extremely interested in understanding the dynamics of migration of that country that is just a distance of 14 kilometers from Africa. The topic of migration is more than a passion, it's my crusade, and in Madrid not only did I have the chance to take classes on the anthropology of migrations, but also, by chance, I came across a Gambian NGO called Kairaba that worked mainly with African migrants in Madrid. A couple of days later, I ended up visiting them in their office and volunteering – in parallel with my classes at UAM– there as a Spanish teacher to a group of Moroccan women. This was one of the experiences that placed Madrid in the unforgettable category, since it enabled me to learn about the Muslim culture the reality of Moroccan migrants in Spain and, ultimately, I learnt from them, from their persistence, perseverance, kindness and respect for others, regardless of language, clothing or ideology. Another ingredient that made Madrid a unique city, apart from its streets, plazas, gardens, inns and sandwiches, were the friends I made there. A group of Brazilians, Mexican and Europeans who became close friends and were often partners in some bizarre story, making Madrid ours and vice versa.

I now feel that the trip never ended, that I'm stretching this parenthesis out as much as possible, since, if it hadn't been for that experience, I wouldn't , for example, be participating in a project to protect the human and labor rights of migrant workers on Mexico's southern border with UN Women. I'm still on this path. From my journey, I learnt to consult maps carefully, but I also learnt to allow myself to be surprised.

The trip over the continent left me with a series of so many landscapes, learnings and stories that they could no longer fit in my pockets. The excitement I felt was simply overwhelming. Stories that I eventually wrote down and shared in a scrapbook. Dear Reader, the opportunities are here and now, I assure you that in Madrid there are no ordinary days. Correction: after Madrid, there will be no ordinary days.

After all, travelling helps us discover the value of each person, thing, detail, gesture and silence. Traveling is to break up, over and over again. At the end of the journey, you have to take those fragments and reinvent yourself. Ultimately, you learn to walk with amazement, to stumble into the extraordinary.
2. By Alejandra Lucía Rodríguez Maldonado B.A. Organizational Psychology, Campus Monterrey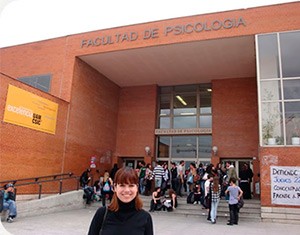 When I was asked to write briefly about my experience at Universidad Autónoma de Madrid, countless incredible events that I experienced came to mind, thanks to this wonderful opportunity.

I will admit that when I decided to apply for the Santander Scholarship, I thought it was a dream that would be difficult to realize, but that didn't discourage me and I did my preparation to fulfill all the requirements they asked me for. I was so excited when I found out that I'd been selected and from then on there was paperwork and other activities that I had to do, in the expectation of achieving my dream: travelling to Spain and studying at such a prestigious university. It was amazing.

When I arrived in Madrid, everything looked so majestic, I can't even describe my excitement that enveloped me on the first day. What would my teachers be like? Who were my classmates? What was the university like? What would my classes be about? Where would I live? All these questions came to mind, since I had known from beforehand about the challenges I would face while I was away from my country.

Everything I have experienced so far has surpassed all my dreams. Going to university isn't just about attending classes to pass a course, it's far more than that. It's about my integral preparation day by day, as a highly ethical person with a humanistic outlook that implies a commitment to those around me.

I am more than grateful for this fantastic opportunity, since this experience has enabled me to gain the necessary strength to forge successful interpersonal relationships, with my roommates and classmates, all of whom come from other latitudes and have contributed to strengthening my character, making me more tolerant and sociable.

In addition, being in a different country and at a time when there are so many changes and conflicts in the world, my outlook has changed enormously and I have come to respect individual differences. I think that this experience is largely responsible for increasing my confidence and self-control, and has helped to spark the leadership I have inside me; my strong sense of solidarity motivates me to continue to prepare myself to become a professional with strong values in ethics and citizenship.

This is a wonderful way to consolidate the values acquired throughout my undergraduate program, before going out into "real life" and demonstrating everything I have learned for the common good of my country and the world.

Thank you so much for your support, this experience has made such a difference in my life and please rest assured that I will not let you down.
3. By Josafat Vázquez Frontana B.A. Marketing, Campus Cuernavaca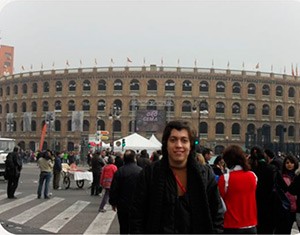 For me, having participated in the Santander call for scholarship applications to study abroad and having won has been an unforgettable experience, filled with emotions and surprising moments.

Across the entire process, apart from experiencing each selection stage moment by moment, it all turned into a process of self-knowledge in which I had the opportunity to analyze my persona, my academic performance, my goals, perspectives, etc.

It's a very gratifying feeling getting to know yourself a little better, while trying to reach your dreams and, of course, seeing the reward of your academic efforts along a path of hard work and perseverance. In this regard, it is important to take into account that you have the opportunity to live side by side with other students in healthy competition, with a process filled with surprises and challenges that require a great deal of spirit and creativity. I feel truly privileged and now that I have the opportunity to live this experience every day confirms that venturing to participate in this type of programs is definitely worthwhile.

Moreover, the selection process brought me closer to my family, teachers and friends who all accompanied me throughout the process, since in these moments you appreciate even more all those who every day allow you to become a better person.

Regarding my experience in Spain, which isn't actually over yet, I've had more fun than ever, I've made friends from many countries, such as France, Italy, Poland, Brazil, Portugal, Puerto Rico, Venezuela, Iran, Bolivia, etc.(apart from my Spanish friends, of course) and I've had the opportunity to learn about their culture, tell them about mine and we've shared incredible experiences.

I would like to say that coexisting with other cultures isn't easy and although they seem to be similar in some ways, they are different in others. During my experience, I have also learned a bit more about Mexican culture and our everyday way of being, since listening to comments from people outside our usual way of doing things offers an interesting perspective. Of course, you also become aware of this since you have the chance to compare your customs with those of other countries. Finally, you become a more integral person as you take a little bit from each culture in your daily activities and that definitely helps you to become a better individual.

Something I find very interesting is that apart from meeting students from European countries, you also have the chance to get together with a lot of Mexicans, some of them from Tec de Monterrey as well, and Latin Americans, meaning that I have created networks not only in Europe, but also in Latin America and, very importantly, in Mexico. In fact, the potential networking that can be achieved when traveling abroad is impressive. From a personal point of view, I have gained many experiences and friends, but from the professional perspective, I have increased my networking enormously, which is very gratifying.

I have also grown in many areas of my life, which is something we overlook in our everyday routine. In particular, I have been able to appreciate and grow in my spiritual emotional, physical, administrative, etc. facets.

Regarding my emotional facet, I have learnt to be far more optimistic, patient and tolerant with others, to be more open when sharing my experiences and to be more confident.

In this area especially, I have come to appreciate my family and country even more and, therefore, care for even more for the wonders Mexico has to offer. You become much more international and global, but also more patriotic and prouder of your country, nationality and customs.

It's a rather strange process, since your horizons are broadened, but you also learn to appreciate what you have. Spicy food, tortillas and some delicious tacos.

Academically, I have been able to test myself, since the grading system is different and the topics studied in class pursue different priorities. In this way, I have been able to test my limits, overcome them and also learn to be more flexible and adaptable to new situations.

Administratively, of course I have learnt to manage my finances better, to be more organized in handling my expenses and income, my time, etc. I feel very proud because now I am far more independent and self-sufficient in many aspects.

Regarding my physical facet, unintentionally, I have done a lot more exercise, since, at least in Spain, people usually walk everywhere and you gradually get used to walking wherever you're going, which has been a very gratifying activity since you always feels very energetic.

The weather will also always be an interesting topic, at least in my case, because I'm from Cuernavaca and I found it quite difficult to get used to the cold in Spain. Nevertheless, having other experiences has been wonderful, particularly watching it snow and being able to go out onto the street and take photos, have fun as the snow falls, it's something truly priceless.

I could carry on writing and wouldn't finish describing everything I've discovered, but I think that I can say, in short, that the best of all is that you receive a lot, but you also have the opportunity to offer a lot to others, to do your country, the Tec proud and to transcend in others as many have transcended in you.
4. By Alfonsina Macouzet Vallín, B.A. Humanities and Social Sciences, Campus Morelia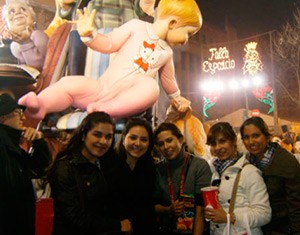 My experience in Spain has been unforgettable, because it truly allows you to grow and learn so much, from simple things like looking after yourself, doing your laundry, cooking meals and washing dishes (you discover that those things don't just happen at home, but someone does them for you!), to having the courses you always wanted to study (because you have the freedom to choose what you want) with excellent teachers. It's also very demanding because the study method is very different and you have to adapt, and I think that adapting is a value that will be very useful in today's rapidly changing world. I have had to read a lot and I've found that difficult, but it's worth it in the end. You learn so much and about things that interest you. You also learn to get on with people from all over the world and other parts of Mexico (I live with four Mexicans from different parts of the country) and to adapt to that as well, to respect differences and make many friends. :D

It's been funny. I've had classes with older people (several classes) so it's sort of like a film, but it's extraordinary to realize that you don't know anything, or you know very little compared to others, which challenges you to try harder. I've also had time to travel (yes, you have to be a nerd all week, but at the weekend you can take advantage and travel as much as possible, so I'll attach some photos of the places I've visited so far (Mallorca, Toledo, Valencia, Barcelona, Jerusalem and, of course, photos of Madrid). Do your best! Submit your papers, give it a shot, you've got nothing to lose. Coming here is incredible and everything you experience will be useful for your future.