Business Accelerator Network
In 2006 Tecnológico de Monterrey, possessing solid human capital, technical specialization, infrastructure, and business contacts all over Mexico, created the first business accelerator at the Monterrey campus of the Graduate School of Business Administration (EGADE).
In 2007 Tecnológico de Monterrey worked with state governments in solid support of growth in high-potential Mexican businesses for the purpose of generating regional well-being and sustainability.
Currently, the Business Accelerator Network includes 17 accelerators located at the following campuses:
• EGADE Business School Monterrey
• Mexico City
• Mexico State
• Puebla
• Toluca
• Guadalajara

• Chihuahua
• Ciudad Juárez
• Cuernavaca
• Querétaro
• Saltillo
• San Luis Potosí
• Santa Fe
• Sinaloa
• Sonora Norte
What is the Business Accelerator Network?
Tecnológico de Monterrey's Business Accelerator Network supports companies with a high potential for growth through high-level specialized consulting services for evaluating and implementing processes for improving and innovating key company areas. This permits consistent, sustainable growth.
Companies eligible for acceleration are capable of generating major growth rates in terms of sales and job creation and have a flexible infrastructure that allows them to adapt to the market's constant changes and demands.
Essentials of the Business Accelerator Model
This Tecnológico de Monterrey model seeks to offer companies comprehensive consultancy provided by a highly specialized network of consultants who work together with entrepreneurs to comply with three essential factors:
Market vision:
We offer advice on issues related to foreign trade, marketing plans, logistics, value chain formation, public relations, benchmarking, and other topics that help expand a company's commercial scope.
Innovation:
Company business models are redefined, production processes improved, new products developed, and best practices for resource management conceived. All these steps increase company competitiveness domestic and international markets.
Funding:
The aim is to improve a company's financial management, establish a proper tax strategy, implement corporate governance, and establish a strategy to obtain venture capital or funding from other sources.
Objectives
The main objectives of the Tecnológico de Monterrey business accelerator model are:
To keep accelerating companies growing at a consistent pace
To improve sales by 20%
To improve job creation by 20%
To reduce costs and expenses
To make companies more efficient
To help companies expand their market vision and commercial scope
To generate innovation, allowing companies to compete in domestic and international markets
To generate plans for attracting venture capital funding and other investors
To improve management skills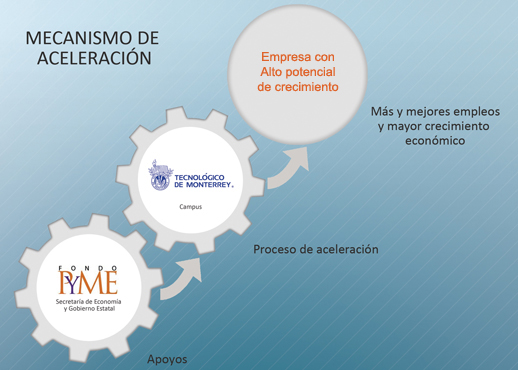 The Business Accelerator Model
Detailed analysis:
The business accelerator model begins with a detailed analysis in order to identify a company's areas of opportunity.
Expansion model design:
Based on the analysis, the consultants and entrepreneur establish a specific strategy (the expansion model) that will allow the business to attain stable growth.
Acceleration process:
During the acceleration process, specialized consultants actively support the entrepreneur throughout execution, supervision, and tracking of commitments made based on the expansion plan.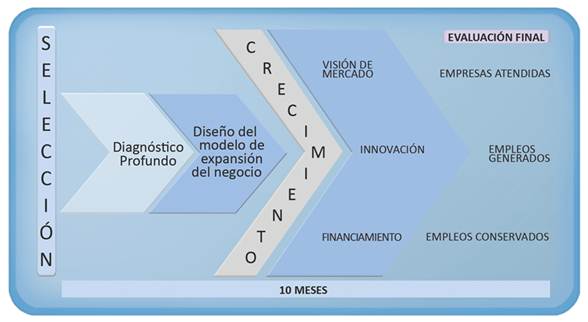 The entrepreneur is advised when problems emerge during the acceleration stage.
Likewise, the company's expansion strategy is implemented. It may include determining new markets and products, designing a better market coverage strategy and value proposal, institutionalizing governance capacities, and other measures.
Constant on-site visits are made to keep accurate track of how strategies designed during business consulting are implemented.
The Tecnológico de Monterrey Business Accelerator Network consists of 17 accelerators distributed all over Mexico.
2006 - EGADE Business School Monterrey
2007 - Mexico City, Mexico State, Puebla, Toluca and Guadalajara.
2008 - Chihuahua, Juarez City, Cuernavaca, Querétaro, Saltillo, Santa Fe, Tampico and Veracruz.
2010 - San Luis Potosí and Sinaloa
2012 - Sonora Norte
Business Accelerator Network