Making way for the new reality
On the adoption of sanitary measures in fully vaccinated people
Regarding the recommendations of the health authorities of our country on safety and hygiene measures for people fully vaccinated against COVID-19, at Tecnológico de Monterrey we agreed to maintain, until further notice, the protocols established in our Conscious Reopening Plan. We ask our community to continue with total adherence to the main safety and hygiene measures: use the mask at all times, keep a distance of 1.5m between people, wash hands frequently and apply antibacterial gel.
We will stay aware of the recommendations of our Tec´sHealth and Medical Services teams, who are constantly researching and updating the proper actions that we must adopt to mitigate the risk of contagion and eventually stop the pandemic.
We have prepared our facilities and our professors and employees to gradually return to the campus when the state and federal traffic lights allow it. If you are currently enrolled, campuses are ready to receive you* following protocols designed to minimize the risk of contagion, your campus will inform you of the details for your return. The most important thing is to take care of the health of all the members of the Tec community and in order to achieve this we need your commitment.
* Subject to the traffic lights from the authorities.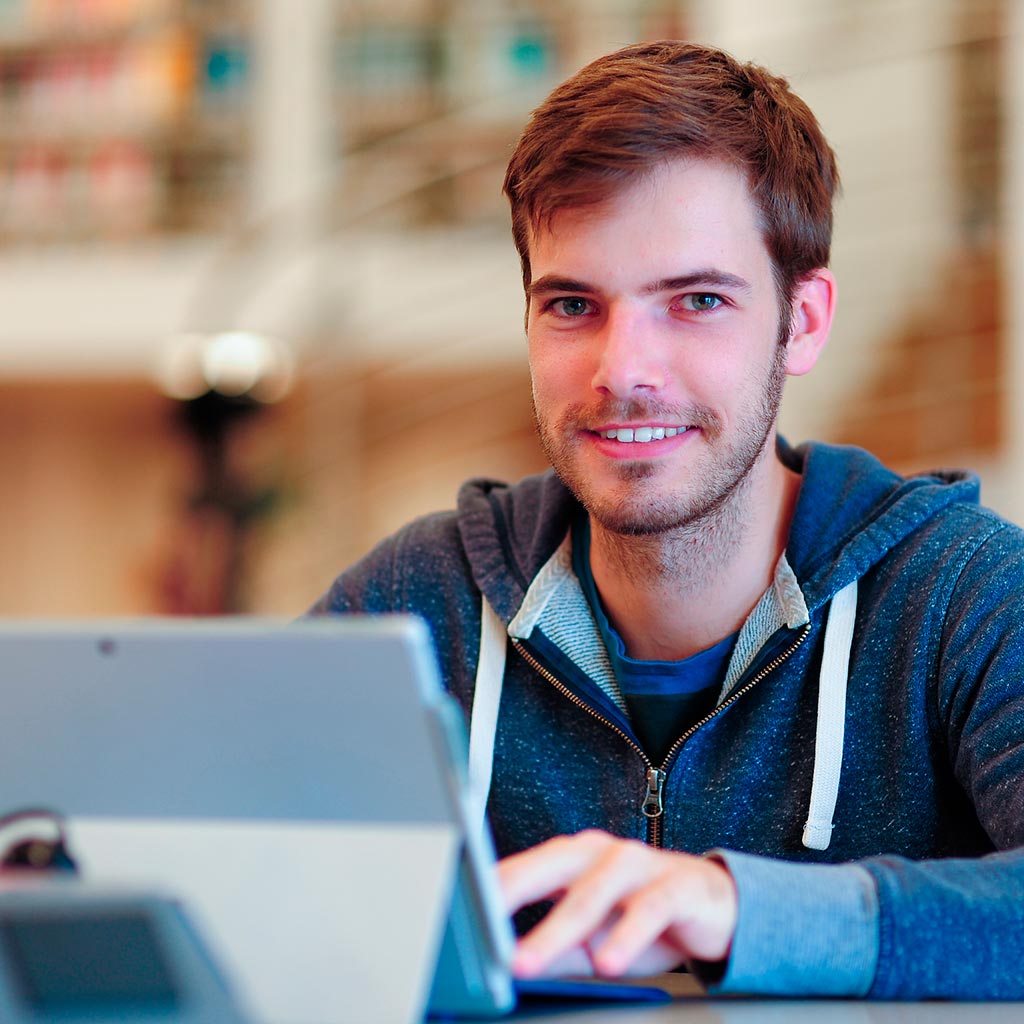 Double mask reinforces COVID-19´s protection
Common masks prevent particle spreading, however, they have lateral leaks where air can enter/exit. The recommendation is to wear a plain cloth mask over a three-layer surgical mask. By using both masks or successfully eliminating leaks, the mask's filtration rate can be as high as 90%, similar to an N95 respirator.
Before returning to campus
If you return from an international trip, you will need to keep 10 days of preventive isolation before returning to campus and resume your face-to-face activities.
Make sure you have completed the "Commitment to My Welfare" course available at MiTec.
Download the App (available soon) in your cell phone that will allow you to sign the "Responsible Letter of Conscious Return" and access the daily health questionnaire.
Answer the health questionnaire in the Sap Fiori Client application (available for IOS and Android) from your home to obtain a QR code (valid that day exclusively) that you must present in the health filters to access the campus. You can attend the campus getting a green QR only.
Take a screenshot of your GREEN QR code by following these steps.
If you get a red QR code, stay home, visit your doctor and contact the TQueremos line 800 8139 500. Remember that you can take a photo of your QR so that you do not have to sign credentials every time you present it.
Before you go to the campus
Plan your day.
Make sure to leave your home with your green QR code generated with the Sap Fiori Client´s App.
Take with you antibacterial gel and 2 face masks. You should use it at all times, covering the nose, mouth and chin. The recommendation is to use a plain cloth mask over a three-layer surgical mask.
Consider that your access to the campus will take longer than usual.
Be sure to take your face mask with you in any means of transportation you use to get to campus.
When you arrive at the campus
If you return from an international trip, you will need to keep 10 days of preventive isolation before returning to campus and resume your face-to-face activities.
Connect to the campus WiFi network, it will help us track possible contagions.
Make sure you have completed the "Compromiso con mi Bienestar" course available at MiTec.
Show the green QR code that validates that you answered the daily questionnaire in the App Sap Fiori Client (available for IOS and Android).
New reality and campus coexistence
Be sure to read and follow the "Guidelines on Student Behavior for Conscious Return to Campus.
Go into your classroom maintaining a healthy distance and respecting the signs.
If you attend the campus for an outdoor LiFE activity or to practice a sport, we recommend you follow the guidelines shown in this infographic.
You must avoid affectionate gestures, including greetings, that involve physical contact, as well as sharing school materials or personal items. The "Tec Greeting" is promoted.
Follow the prevention measures indicated for each of the spaces (classrooms, library, cafeteria, etc.). 
Wash your hands frequently with water and liquid hand soap following the technique recommended by the WHO. 
Keep clean and disinfected the work or study area you use, as well as your personal items, and make sure you do this when you change spaces. 
You will find new signs with the recommended number of people in each space (classrooms, workspaces, cafeterias, etc.). Likewise, one-way routes (with return routes) have been posted to reduce the risk of contact, to control the movement through the building corridors and to maintain a healthy distance while changing spaces.
When leaving campus
Before leaving Campus, please generate again your QR code in order to get through the exit filters.
We recommend that you go directly back home and avoid public places.
We know that the current situation has brought us a lot of uncertainty...
Notice, Seek, Communicate and Remember ......
If you have roomies, agree on prevention and health measures you will maintain to protect yourself.
Avoid social gatherings and going to public places. If you must go out, always use your face mask, spanning nose, mouth and chin. The recommendation is to use a plain cloth mask over a three-layer surgical mask.
Wash your hands frequently with water and liquid hand soap or antibacterial gel.
Remember that by taking care of yourself, you take care of others.
It is important that students and employees establish a commitment to the Tec de Monterrey to ensure that before returning to activities, they have been in strict isolation at home and have practiced the recommended health safety measures.
These will help us to minimize all the rest in the reincorporation of face-to-face activities.
Guidelines:
If you return from an international trip, you will need to keep 10 days of preventive isolation before returning to campus and resume your face-to-face activities.
No social visits or going out.
Avoid hand shaking.
Wash your hands regularly for 40-50 seconds and change your towel frequently.
Keep at least 5 feet away from other people inside your house.
Limit movement within shared areas in the house.
Clean and disinfect surfaces that are touched frequently.
If you have symptoms of respiratory disease, avoid self-medication and contact your doctor.
Follow recommendations issued by official sources.
*Strategy created by TecSalud's Task Force COVID-19, does not replace the guidelines indicated by the health authorities..
How to be in isolation
Your health and well-being are important to us and we are here to support you.
When entering quarantine or isolation, be prepared with the following:
A digital thermometer (for daily use)
Tylenol and ibuprofen (for fever)
Alcohol wipes (for cleaning, as needed)
Hand sanitizer (for occasions when it cannot be washed)
Water bottle
Continue with daily health checks and watch for the following symptoms:
Fever (appearing, getting worse) or higher than 38°C.
Cough
Difficulty in breathing
Sore Throat
Unexplained fatigue
New loss of taste or smell
Monitoring your symptoms during isolation
If you have symptoms or need medical attention while in isolation, please call TQueremos (800 813 95 00)
If you need immediate treatment for serious or critical conditions, call 911.
If you decide to go to the emergency department on your own, call the emergency room prior to your arrival so that they can be prepared to potentially isolate you when you arrive.

Health Services
If you need additional support, there are many options that you or your loved ones can use on and off campus.
Do you need Help?Contact TQueremos keyboard_arrow_right
Maintaining Tec measures
keyboard_arrow_down
Failure to maintain expectations and required quarantine or isolation measures will be considered a violation of university instructions and rules. This could result in a formative committee or conversation with a Wellness Ambassador or other designated person. The evidence presented will point to the occurrence of such a conversation and indicate that a further incident may result in suspension or even expulsion from the Institution.
Isolation
keyboard_arrow_down
As members of the Tec community we have a responsability to care for one another and to promote the common good. Therefore, the university's expectations go beyond what is minimum requiered to maintain public order, while actively pursuing what is best for both the individual and the Tec community.
In addition to our regular prevention measures, including the use of face masks, practicing physical distancing, and frequent desinfecting, we take care for each other by implementing quarantine and isolation strategies.
Let's not forget to practice physical distancing, frequent and very important disinfection, the use of masks.
Common masks prevent the spread of particles, however they have lateral leaks where air can enter and / or exit. The recommendation is to wear a plain cloth mask over a three-layer surgical mask. By using both masks or by successfully eliminating leaks, the mask's filtration rate can be as high as 90%, similar to an N95 respirator.
These measures are used to help you, your coworkers, employees and others by avoiding exposure to people with or suspected of having COVID-19.
Hearing that you need to be put in quarantine or isolation and disconnected from others may be upsetting to you. Remember that the goal is to ensure your health and protect others from exposure to the disease. Now that Tec is here to support you and that we will do everything we can to make you feel as comfortable as possible during this time.
Isolation Guidelines

The following guidelines for isolation apply to both on-campus and off-campus residence halls and also apply to any student returning home using personal transportation. All of these guidelines apply to all students in both quarantine and isolation.

Students should not leave isolation until formal approval has been given by the campus medical services leader.
Students should not be seen during quarantine or isolation. Students are encouraged to communicate via online means such as Zoom platform.
Students should communicate daily with their tutor (for high school students), Student Success Mentor (Tec21 plans), Career Director (previous plans) or Program Director (graduate students) regarding their symptoms and to identify close contacts they may have had in order to protect the community.

Students in residence halls will be provided with a meal plan to ensure that they have access to home delivery services to purchase groceries and food. Home deliveries may be made to the residence halls, but students should avoid contact with the delivery person.
Students should check their symptoms daily, monitor their temperature twice a day, and report a temperature greater than or equal to 37.5°.
What to expect
keyboard_arrow_down
At Tec we have taken exceptional hygiene measures through cleaning and disinfection routines on all campuses. We prioritize natural ventilation, however, we reinforce maintenance routines for heating, ventilation and air conditioning systems.
As an institution, we have taken advice on the most effective prevention strategies and have developed a plan to safeguard the integrity and health of the entire Tec community.
As for the residences, the use of superior protocols and hygienic and healthy distance measures will be indispensable in all the facilities. Room occupancy will be individual. In the event that a resident tests positive for COVID-19, he/she must remain in his/her room under isolation and must follow the measures established by the institution. We will notify the campus medical services leader to determine further action.
While you are in isolation, remember that a medical services person will contact you daily to assess your personal needs. This person will also talk with you about people with whom you have been in contact to determine if they should be counseled. A person from Wellness and Counseling will also contact you to see how you are doing academically, mentally and spiritually. The Medical Services person will continue to monitor your health status and recommend when it is preferable for you to return to your on-campus activities.

We recommend that you call the TQueremos 24/7 (800 813 9500), in case you need emotional or medical support at any time.
For more information about available residences and services, please access the following website: Servicios disponibles.
Common Emotions

Everyone reacts differently to stressful situations that require changes in location or behavior. Being in isolation, you may experience and feel different emotions such as:

Anxiety, worry and/or fear related to your physical health and the health of others.
Anger or resentment about the inconvenience.
Worry about not having your things with you or not being able to do your normal routine.
Uncertainty or worry about how long you will have to stay in this situation.
Happiness about having some time to yourself, to rest and to catch up on your reading.

Loneliness or the feeling of being outside your social circle.
Boredom and frustration.
Sadness or depression.
Guilt about being infected.

If you need emotional support do not hesitate to contact us, we are here to support you.

Glossary

Isolation:

Separates people with COVID-19 symptoms whether or not they have a positive medical test.


Close contact:

Refers to being approximately 2 meters or less with a person with COVID-19 for an extended period of time. Close contact can occur while caring for, living with, visiting, or sharing a common area of health care services, being in a room with a person with COVID-19, or having direct contact with infectious secretions from a person with COVID-19.


Physical Distancing:

This is a conscious effort to maintain distance between you and other people as a measure to mitigate the spread of the virus. This includes avoiding public gatherings, even when you do not have symptoms. Keep a minimum of 2 meters away from other people as much as possible. Take precautions in case you cannot maintain a healthy distance. Use a 70% alcohol antibacterial gel and/or wash your hands after contact or touching surfaces.

Adaptado de HERE, your health and well-being are important to us. We are here to assist you. https://here.nd.edu/assets/398235/cru_basics_handout.pdf
The TQueremos line 8008139500 provides you with help in the following aspects: medical (24/7), psychological (24/7), nutritional, legal, family economy and veterinary.