Services you have available
Making way for the new reality

Making way for the new reality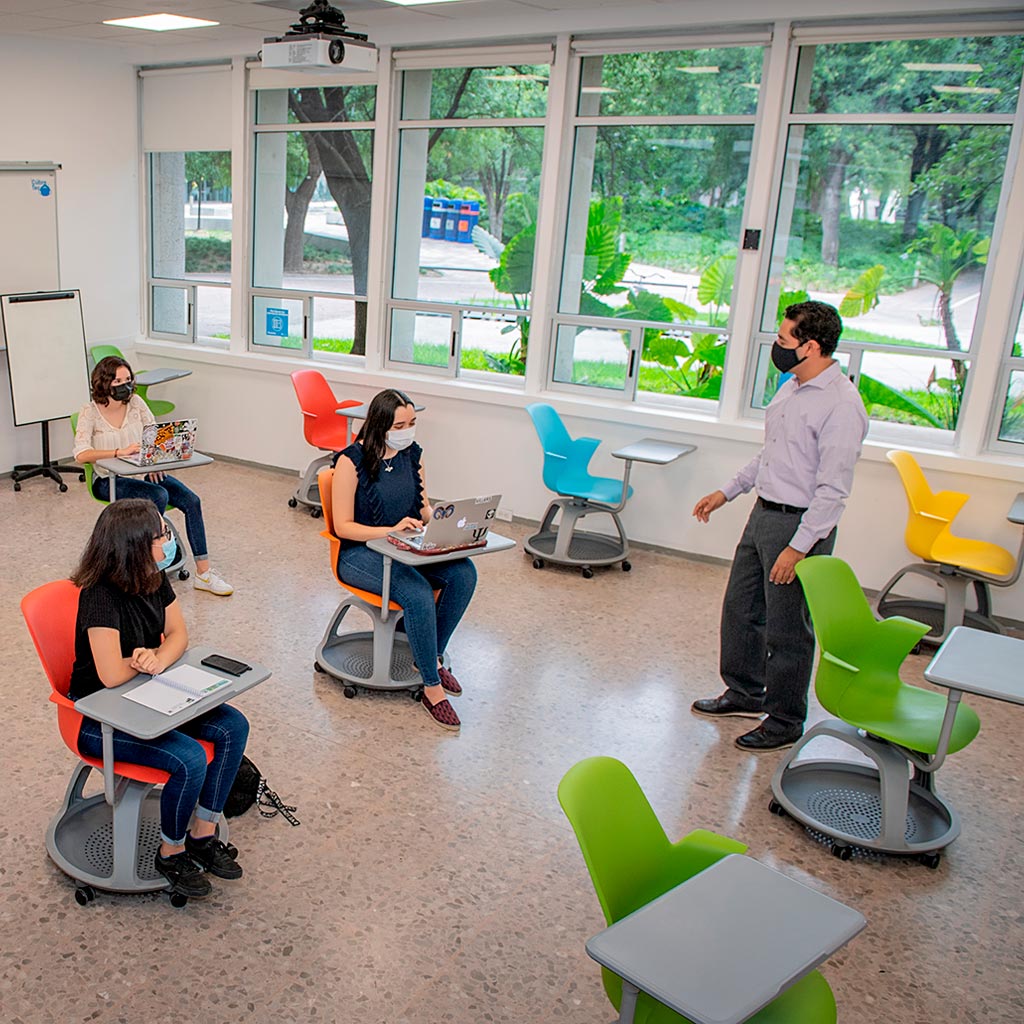 We have carried out exemplary hygiene measures through cleaning and disinfection routines on all campuses. We will encourage the use of natural ventilation; however, we will reinforce the maintenance routines of the heating, ventilation and air conditioning systems.
Durante la jornada y al finalizar la misma reforzaremos las medidas de higiene mediante rutinas de limpieza, desinfección y gestión de residuos constantes.
During the day and at the end of the day we will reinforce hygiene measures through constant cleaning, disinfection and waste management routines.
Residences
keyboard_arrow_down
Use of superior protocols and reinforced hygiene and distance measures in all facilities to protect your health.
Room occupancy will be individual.
Cancellation of visits until further notice.
Use of social networks to promote integration and healthy coexistence.
Accompaniment of campus medical services. In the event that a resident is diagnosed with COVID-19, he/she must stay in his/her room under isolation and the corresponding protocol will be implemented for the safety of all residents.
Q&A of the return to Tec Residences
1. What would happen to those who live in Residences?

We have been advised by the best experts, both from Tec Salud and from international institutions specialized in pandemic management, to return to safe campuses that offer an environment that gives confidence and maximizes welfare care. The face-to-face activities that we can carry out will comply with the strictest standards of healthy distance and sanitation of all our spaces. In the case of the residences, physical and health and hygiene measures will be taken in all the facilities: rooms, common rooms, cinema room, game rooms, corridors and reception.

2. What happens if I want to cancel my contract?

Don't worry, no penalty will be charged if you decide to cancel your stay with us at Tec Residences. It is important to make it clear that the cancellation must be notified in writing and in advance to the room's reception.

3. Can I receive visitors during my stay in the Residences?

No, in order to take care of your well-being, visits will be cancelled until the health authorities inform us that we are at a low risk epidemiological traffic light.

4. Can I request special permission (to go home on the weekend to visit my parents or to study in a project on the weekend)?

Yes, even if the permissions were subject to the cases mentioned above. Except for one exception that will be evaluated by a committee.

5. How will the cleaning of the common areas be done, what measures will be used in these spaces?

The spaces and common areas will be disinfected more frequently in accordance with WHO protocols, also aligned with our cleaning protocols established by the cleaning committee and approved by Tec Salud.

6. What happens if a positive case is detected among residents?

In the event that a resident is diagnosed with COVID-19, he/she will be transferred to an isolation room, will abide by the measures imposed by the institution and we will notify the campus Medical Services leader to determine the next actions.

7. Will I be allowed to have someone with me on the move in?

Yes, during the move in, the resident will be allowed to be accompanied by a family member or friend while settling in and securing their belongings in their room, as long as the companion complies with our security filters.

8. Will Tec Residences carry out COVID tests?

Yes, we will carry out PCR tests on 100% of our residents when they check in at the facilities and from the following weeks tests will be carried out randomly on 5% of the total population.

9. How long will we have individual occupancy in the residences?

This situation will be temporary until further notice, we ask for your patience and we will notify you to confirm the progress of the COVID situation and the progress of the epidemiological traffic light.

10. What measures are being taken by the personnel who are entering to work in the residences?

All our employees will be submitted to a sanitary filter before entering the workplace, where besides taking their temperature, a questionnaire will be applied in order to know if they have presented any symptom of infection and to know their medical history. In addition, they will be protected with their personal protection equipment, face shield, gloves and face mask.

11. What will be the protocol for cleaning in common bathrooms and areas?

We will follow the guidelines established by the cleanliness committee, which are supported by Tec Salud, taking care of the issue of social distancing, we will remove non-essential furniture and spaces will be sanitized more frequently.

12. Will the spaces and common areas be available for use?

For the time being, the spaces that we consider non-essential, such as: gyms, study rooms, game rooms, movie theaters, swimming pool and balconies will remain closed, until our authorities tell us that we are at an epidemiological traffic light that will allow us to reopen these spaces.

13. Will the same fees continue during the period August - December 2021?

To support your economy during the next semester our fees will be affordable based on the price of a double room with a single occupancy.

14. What will the events be like during the next semester?

We will prepare online and social network dynamics.

15. How will the use of common spaces such as kitchens, laundry, reception and lobby be?

Taking care of your wellbeing, we will continue to reinforce the theme of social distancing, including signage to identify spaces, remove non-essential furniture and make staggered schedules to avoid crowding.
Cafeterias
keyboard_arrow_down
The cafeteria services will be available during the semester with all the necessary prevention measures based on the official norms issued by the Health Department.
The modality of the service in our cafeterias will be food to go, with Pick&Go and Box Lunch alternatives. You will have to eat your food in open spaces.
Libraries
keyboard_arrow_down
Spaces such as the library and learning commons will be restricted and if conditions allow, may have a reduced capacity to maintain healthy distance.
LiFE spaces and activities
keyboard_arrow_down
Welfare and Counseling
keyboard_arrow_down
You can access the 24/7 service of the TQueremos line: 800 813 9500 in addition to the Orienta app (available for iOS and Android).
You can access the TQUEREMOS site where you will find resources such as mindfulness sessions, stretching sessions, Wellbeing conferences and a downloadable Wellbeing Gym manual.
Medical services
keyboard_arrow_down
First contact medical offices on campus will provide medical assistance only in cases of emergency (fractures, cuts, severe pain and fainting).
We have installed a module for exclusive attention to COVID-19 suspicious cases (First Aid Module, MAP). If during your stay on campus you show symptoms that could be considered suspicious of COVID-19, please go directly to the First Aid Module.
Remember that you also have access to doctors 24/7 through TQueremos: 800 813 9500.
Find out how we are preparing our campuses for the return (video)
The TQueremos line 8008139500 provides you with help in the following aspects: medical (24/7), psychological (24/7), nutritional, legal, family economy and veterinary.